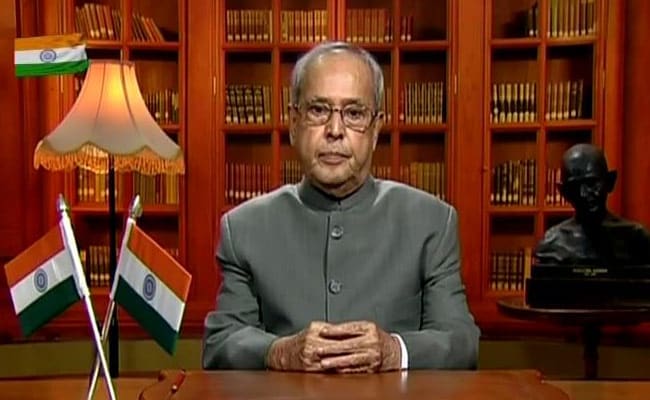 Highlights
President Pranab Mukherjee gives farewell address to nation
Says India derives its strength from tolerance, multiplicity
His term ends on Tuesday, to be succeeded by Ram Nath Kovind
New Delhi:
President Pranab Mukherjee
today said the soul of India resides in pluralism and tolerance and the nation must free its public discourse from "all forms of violence, physical as well as verbal". In his farewell address to the nation, the President - who will hand over charge of the nation's highest office to Ram Nath Kovind on Tuesday -- said India derives its strength from tolerance.
"There are divergent strands in public discourse. We may argue, we may agree or we may not agree. But we cannot deny the essential prevalence of multiplicity of opinion. Otherwise, a fundamental character of our thought process will wither away," he said.
But though compassion and empathy form India's true foundation, "every day we see increased violence around us," he said. "At the heart of this violence is darkness, fear and mistrust. We must free our public discourse from all forms of violence, physical as well as verbal. Only a non-violent society can ensure the participation of all sections of the people, especially the marginalised and the dispossessed in the democratic process."
President Mukherjee has spoken out repeatedly
, highlighting the importance of maintaining India's pluralism. Even last month, he had expressed concern over instances of mob violence, saying people must remain vigilant against challenges to the basic tenets of India's society.
On the eve of stepping down from office, the President also said he was "overwhelmed" by gratitude to the people for their trust in him. "I have received much more from the country than I have given. For that, I will remain ever indebted to the people of India."
Over the last week, the 82-year-old has attended a series of farewell ceremonies - the last one today was a lunch at the Supreme Court by the Chief Justice of India and the other judges. Yesterday evening,
he attended a ceremony in Parliament's Central Hall
, where all the lawmakers and Prime Minister Narendra Modi gathered to meet him.
Today, the Prime Minister tweeted, "Under President Pranab Mukherjee, Rashtrapati Bhavan became a 'Lok Bhavan".