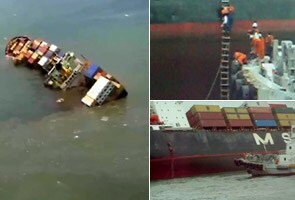 Mumbai:
Maharashtra Chief Minister Ashok Chavan on Tuesday visited the Coastguard office to discuss the clean-up operations of the oil spill which was caused after two cargo ships, MSC Chitra and MV Khalijia collided off the Mumbai coast on Saturday.
(In Pictures: Mumbai oil spill)
Sources say experts have told the Maharashtra government it may take 45 days for the cleaning-up process. But given the importance of the Mumbai Port, Maharashtra government is looking at a 10-day deadline. (
Watch: Clean up to take 45 days
)
Environment Minister Jairam Ramesh may have said that the oil has now stopped leaking, but images shot by NDTV show that the oil slick is affecting marine life and the environment.
NDTV travelled to Uran in Raigad district to find out the impact of the spill, and the situation is scary. A snake which came in from the sea was covered in oil, and the mangroves here are bearing the brunt of the accident. (
Read: Impact on the environment
|
Watch
)
Though the oil leak has been plugged and the spill is not spreading now, it is estimated that about 800 tonnes of oil has already been spilt. This is nearly double of what was thought earlier. As a result of this, both Mumbai Port and Jawaharlal Nehru Port Trust (JNPT) have been closed. The Mumbai Port in fact may not open till Friday. The 31 hazardous containers still in the ship's hold are however secure. (
Read: Oil leak off Mumbai coast has stopped: Coast Guard sources
)
Meanwhile, the statements of the captains of the two ships will by recorded today. The police will also question officials from the VTMS (Vessel Traffic Management System) which is the nodal body for ship movement in the port area. The police have also asked for the logs of both the ships.
There are fears that MSC Chitra could get stuck indefinitely mid-sea much like the River Princess which ran aground off the Goa coast in 2000, creating a bigger environmental nightmare.
Several reasons are being given for why the ships collided, Coast Guard sources say:
* The two ships were communicating on different radio frequencies
* Ships are supposed to have a pilot to guide them during crossings. In this case neither did
* Questions as to whether the port trust radar warned the ships
Concerned over the oil spill, Prime Minister Manmohan Singh on Monday called for a report from the Shipping Ministry on the incident. "The Prime Minister has called for a preliminary report from the Shipping Ministry on the oil spill," PMO sources said. (
Read: Prime Minister calls for report on Mumbai oil spill
)