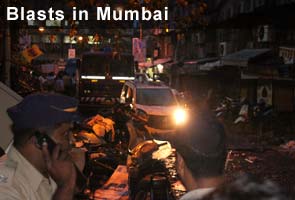 Mumbai:
Two more victims of the July 13 serial blasts in Mumbai, who had been admitted to the J J hospital, succumbed to their injuries today, taking the death toll in the terror attack to 23.
Surender Singh Bisht (30) suffered major burn injuries in the blast at Zaveri Bazaar and died this morning, hospital sources said.
Another victim Ajay Verma (30), who also suffered deep burn injuries and a head injury at the Zaveri Bazaar blast, died this evening while undergoing treatment, the sources added.
Twenty-two others are undergoing treatment in J J Hospital, including six still in a critical condition, sources said.
Shripal Mujhapura (35), who suffered severe head injuries in the blast at Opera House, died at Harkisandas Hospital last night.
Of the 12 injured persons admitted to Harkisandas hospital, five are still in critical condition, sources said.
A total of 131 persons were injured in the blasts while 23 have lost their lives till now.