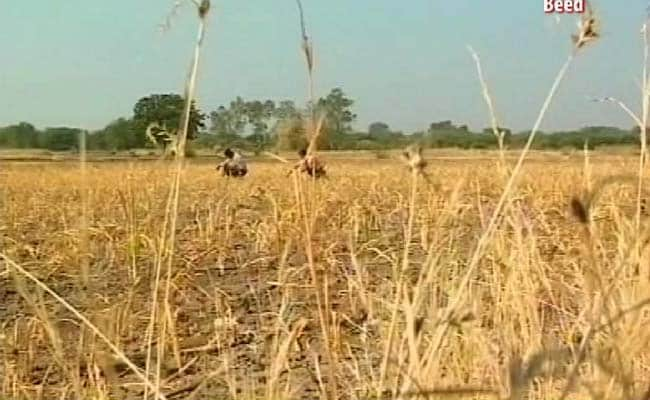 New Delhi:
The spectre of a drought looms over large parts of the country with 40 per cent of its land mass receiving "deficient" rainfall.
"As of today, 47 per cent of the country has witnessed normal rainfall, 40 per cent deficient and merely 13 per cent excess precipitation. The overall deficiency has increased to 12 per cent," India Meteorological Department said, adding with the southwest monsoon expected to start withdrawing from this month the situation is likely to get worse.
With North interior Karnataka recording 43 per cent rainfall deficiency, Chief Minister Siddaramamiah termed the drought as the "worst" in 40 years and asked officials to take it as a "challenge" and work on "war footing" to deal with it.
Maharashtra's traditionally parched Marathwada also stared at a drought with the region recording 51 per cent less than normal rainfall, the highest in the country.
Of the 36 sub divisions, 17 have so far experienced "deficient" rainfall, while the 16 have recorded "normal" monsoon. Only three sub divisions have seen "excess" rainfall, IMD sources said.
With many parts of Maharashtra witnessing drought-like situation, Chief Minister Devendra Fadnavis embarked on a tour of affected areas today that includes Marathwada, Ahmednagar and Solapur districts. Konkan and Goa regions have witnessed 32 per cent deficient rainfall.
According to the Maharashtra government, Marathwada region is facing "acute water shortage" with the state recording overall 56.6 per cent of the expected rainfall.
State's reservoirs are only at 49 per cent of their capacity.
Of the 355 talukas in the state, five have received rainfall ranging from 0-25 per cent, 107 have recorded 26 to 50 per cent of the rainfall, 152 have witnessed 51-75 per cent, 70 just 76 to 100 per cent and only 21 have witnessed 100 per cent or more rainfall.