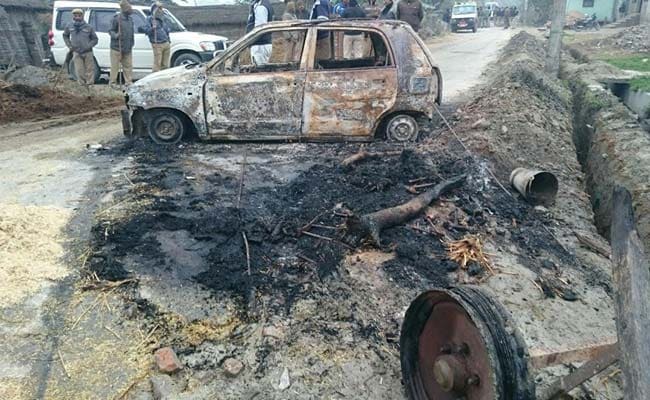 Muzaffarpur:
65-year-old Marmuni Biwi is shattered. She lost her home and all her stored paddy when a large mob attacked her village in Bihar's Muzaffarpur on Sunday and set fire to houses. Three persons were burnt alive in the clashes that have acquired communal undertones.
Marmuni's husband and two grandchildren have not returned since the attack. She says a mob of 3000-odd people attacked the Azizpur village. "We were sitting around. Suddenly this mob appeared and started setting homes on fire and beating everyone in sight. We all ran for our lives. My family has still not returned," she told NDTV.
Today, a large number of policemen are at the village to ensure that there is no fresh violence. Some 14 people have been arrested and an FIR or police complaint has been registered against an "unnamed mob of 5,000" people.
The clashes at the predominantly Muslim village, around 55 km from state capital Patna, involve a love affair between a girl and a 19-year-old Hindu boy from a neighbouring village, the police said.
The boy went missing on January 9. His body was found on Sunday morning, from a field near the home of a person accused of kidnapping him. A mob then attacked the girl's village and set fire to houses and vehicles.
For about an hour, the police and the administration could not enter the village as thousands of attackers went about destroying everything. Most of the residents have run away, leaving behind their gutted homes and charred belongings.
The situation is tense but under control, said senior Bihar police officers.Besides a large number of policemen, all senior officers of the district are camping at the village.
"We have instructed people not to believe in any rumours. The sensitive areas are under alert," said district magistrate Anupam Kumar.
The state government has announced Rs. 5 lakh compensation for the families of those killed in the attack.