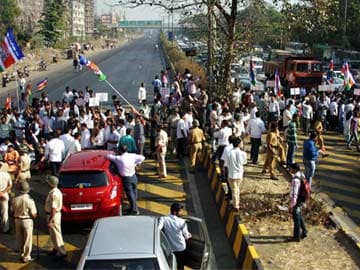 Mumbai:
Following their leader Raj Thackeray's diktat, Maharashtra Navnirman Sena (MNS) workers today gathered to block highways in many parts of Maharashtra to protest against the toll tax. However, the swift action by police ensured that most parts of Mumbai and other cities remained unaffected by the party's call for a
raasta-roko
agitation.
Despite MNS chief's call to avoid violence or inconvenience to public, MNS workers blocked traffic at some places and indulged in stone pelting. On Tuesday, Raj Thackeray had said, "Schools, colleges and universities will remain open. Students going for their exams need not worry. But all the highways in Maharashtra where toll is collected will be shut from 09:00 am. This is final."
Police detained Raj Thackeray as he left his home in Central Mumbai to head to Vashi Toll Plaza where he was to lead protests. He was taken to the RCF Police Station where he was kept for more than two hours. When he was released, his agitation had already run out of steam. On his way out, he said, "I appeal to my MNS workers to not indulge in violence. When I was inside I spoke to the Chief Minister on the telephone and I am meeting him tomorrow."
Eight state buses were targeted in Pune and four buses were attacked in Aurangabad. Several commuters complained that their cars were damaged due to the stone pelting. In Navi Mumbai, the police conducted a minor lathicharge to clear roads that were blocked by the worker.
Several MNS workers and leaders were arrested even before the agitation could start and those who were on the streets could do little damage because of large police protection and elaborate security arrangements at toll booths. "Our line is very clear. We will not tolerate any vandalism and we will proceed as per law," Additional Commissioner of Police (East Region) Qaiser Khalid said.
Around 12,000 MNS workers were detained across Maharastra and Section 149 notices were issued to 3,000 others. Section 149 CrPC notices were sent to 1,720 party workers and leaders, including the MNS chief. More than 600 people were arrested under different sections of the Indian Penal Code (IPC). Four offences were registered against three party MLAs.
Calling the agitation a political stunt in an election year, Maharashtra Chief Minister Prithviraj Chavan said, "There is no need for vandalism. This is an election year and everyone wants to do politics."
The party's biggest rival, the Shiv Sena, alleged that the agitation was scripted and that Raj enjoyed tacit support from the Congress-NCP government. Shiv Sena MP Sanjay Raut said, "Where is the bandh? The channels are showing everything is fine. The public has not supported the bandh."