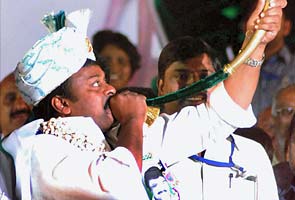 New Delhi:
Security of foreign visitors and improving facilities to boost India's image as a tourist-friendly country were the main focus of the tourism ministers' conference held on Thursday.
In the meeting, which came after several incidents of crime against foreign tourists, especially women, it was decided that all states and union territories will have tourism police, comprising officials on deputation from police, along with ex-servicemen and home guards.
Terming the meet, as "historic", Tourism Minister K Chiranjeevi said, "We met to evolve strategies. I never expected such a response."
The conference, which was attended by 23 tourism ministers and high-ranking officials from 12 states and union territories, also passed a resolution aimed at making the country safer for
tourists.
"In case of assault on any tourist, states will ensure immediate post-traumatic help to the victim, respecting their privacy," the resolution said.
The ministers also decided to establish proper toilet facilities along roads leading to important destinations, utilising the existing infrastructure like petrol pumps, dhabas and panchayat bhawans.
State tourism departments would rope in local bodies for cleanliness measures and take steps to make tourism destinations beggar free.
The ministry has also said it will encourage people involved in the tourism sector to wear badges with the slogan 'I respect women'.