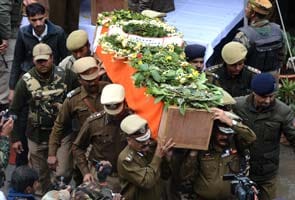 New Delhi:
The BJP's Sushma Swaraj today asked why Home Minister Sushil Kumar Shinde was not in the Lok Sabha when the House honoured the memory of five soldiers from the Central Reserve Police Force (CRPF) who were killed in a suicide attack by militants in Srinagar yesterday.
When he arrived in the Lok Sabha shortly after noon, Mr Shinde said the two militants shot dead appeared to be of Pakistani origin, and the diaries recovered from them contained Pakistani phone numbers. Pakistan has denied any link to the ambush.
(Pakistan-made items found on killed terrorists: Home Minister)
By mistake, Mr Shinde read out a statement on the attack twice, provoking loud protests from the opposition.
The militants, carrying what looked like cricket bags, entered the CRPF camp and walked onto a large open field were off-duty officers and children were playing a cricket match. They opened fire without cover and lobbed grenades at the officers.
Five jawans and four civilians were injured in this fidayeen or suicide attack, the first in Srinagar after a gap of three years.
Ms Swaraj asked the government to explain reports that there were intelligence inputs about the attack. "Why were the jawans not saved despite that?" she asked.
She also criticized Foreign Minister Salman Khurshid, who was in the House, for lunching recently with Pakistani Prime Minister Raja Pervez Ashraf when he visited the Ajmer Dargah or shrine near Jaipur last weekend.
"We should not challenge each other. We should be challenging Pakistan in one voice," she said. "If the Indian Parliament today looks divided, it will send a wrong message to Pakistan and the militants."