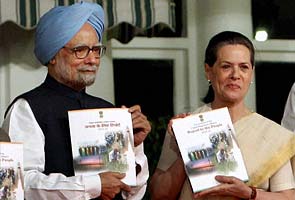 New Delhi / Kolkata:
As the Congress scrambles to make up the numbers it loses in the Lok Sabha with Mamata Banerjee's exit from the UPA, the threat of mid-term elections is remote but real. The UPA 2, which has ruled with a thin majority in Parliament for the last three years, needs to stitch up new alliances to ensure that it could survive a trust vote.
The BJP said today the government cannot last its full term till 2014."Anything can happen before that," senior BJP leader LK Advani said.
But what will help the Congress is that not all parties - including some firmly in the opposition - find elections politically expedient right now. And who stands where on mid-term polls is most obvious in states that have seen elections recently.
So in West Bengal, while both Mamata Banerjee and the Left are now positioned against the Congress, Ms Banerjee's Trinamool Congress favours early elections, while the Left would rather like status quo for now. The Trinamool's Kunal Ghosh today dared Prime Minister Manmohan Singh to resign and seek a fresh mandate before he accepted the resignation of Mamata Banerjee's six ministers.
Ms Banerjee is riding high on her electoral success last year when she decimated the Left after three decades of rule. She would like mid-term elections soonest to build on those gains. At this point that she would be most likely to increase her tally in the Lok Sabha - she has 19 MPs in the present Lok Sabha. Two years later, when general elections are due in 2014, there is every likleihood of some of that shine wearing off as anti-incumbency sets in.
For those very reasons, the Left, which has no love lost for the Congress-led UPA government, would not like elections at this time.
Ditto in UP, where Mulayam Singh Yadav sees a chance to top his total of 22 Lok Sabha MPs if elections are held sooner. His party won a huge mandate in Uttar Pradesh early this year and is likely to consolidate on that. Mayawati, who was denied a straight third term as UP chief minister, would rather not faces elections right now as she rebuilds after her big loss. In such a scenario, with her 21 MPs, Mayawati is being seen as the Congress' most likely saviour.
So, in Tamil Nadu, J Jayalalithaa of the AIADMK would favour early elections and the DMK would not; the latter partners the Congress at the Centre and has assured it that it will not do a Mamata, though it does oppose last week's hike in diesel prices and the cap on subsidised cooking gas, much like Ms Banerjee. The DMK was routed by Ms Jayalalithaa last year in the Assembly elections.
And in Punjab, the Akali Dal, which won a record consecutive term in power this year, would like mid-term elections, but the Congress in any case would not.
Nitish Kumar has ruled Bihar for 7 years now, but his popularity has not waned. His party holds 22 of the 40 Lok Sabha seats in the state and he would not be averse to mid-term elections to better even that tally. Arch rival Lalu Yadav could never really recover politically from his fall from grace and would rather not have mid-term elections. He is likely to keep supporting the Congress.