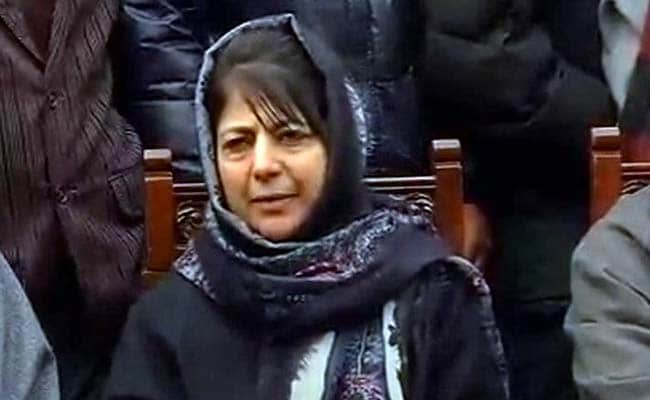 Jammu:
Jammu and Kashmir Chief Minister Mufti Muhammad Sayeed said today that his daughter and ruling Peoples Democratic Party (PDP) president Mehbooba Mufti was wise enough to shoulder any responsibility.
The chief minister was addressing a press conference in Jammu on Friday, his first media briefing after Prime Minister Narendra Modi's visit to the state on November 7.
Replying a question about media reports that he intended to hand over the reins to his daughter, Mr Sayeed said: "She is mature enough to handle responsibilities. It is a democracy. She works more than I do in addressing problems of the people on the ground."
Answering another query about the open defiance of party leadership by two of PDP's Lok Sabha members and senior leaders Muzaffar Hussain Beigh and Tariq Hameed Karra, Mr Sayeed said: "It is part of democracy. Which political party in the country does not have dissenting voices."
"They are our party's senior leaders and we will address the issue by talking to them," he said.
Mr Sayeed said the economic package announced by Prime Minister Modi has been well received by the people of the state as it addresses all developmental issues.
He also said PM Modi's rally in Srinagar was well attended.
"The rally was very good. I am happy about it. People wholeheartedly participated in the prime minister's rally and people are happy with the package announced by him," Mr Sayeed asserted.
The chief minister also said by utilising the funds, better roads would be built in the state.
"Roads will be better, tunnels will be made. Rs.33,000 crore would be spent on building roads in Jammu, Kashmir and Ladakh regions of the state," the chief minister said.
He also said Rs.1,178 crore has been earmarked in PM Modi's package for flood management programme in Jammu and Kashmir.
Mr Sayeed said that two AIIMS would be set up in the state -- one for the Jammu region and another for the Kashmir Valley, in near future.