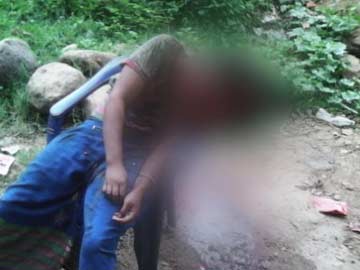 South Garo Hills:
The Meghalaya police is engaged in a gun battle with the Garo National Liberation Army, a militant group that allegedly shot a woman through her head for resisting an attempt to molest her in a remote village of the state's South Garo Hills district on Tuesday evening.
"We have identified the group. Now heavy exchange of fire is taking place between this group and the police in the Durama jungles. It started around 7.30 and is going on right now," said GHP Raju, IG Operations, Meghalaya Police.
The 35-year-old woman was shot six times through the head at point blank range with an automatic assault rifle outside her home, the police said. They said the woman's five children, locked up in the house along with their father by the assailants, first saw them assault their mother and then blow her head off.
There has been outrage in the country and globally after two young girls were gang-raped and found hanging from a tree in Uttar Pradesh last week.
Local journalists received an email purportedly sent by the Garo National Liberation Army claiming responsibility for the woman's murder. The email claimed that the woman was a police informer and had given information to cops about some high profile members of the outfit.
It also threatened the journalists with dire consequences for reporting the murder, promising retaliation.
The GNLA was declared a terror organisation by the Centre in January 2012. It is allegedly involved in several cases of murder, kidnapping and extortion in all three Garo Hills districts in Meghalaya.
The Union home ministry sanctioned 10 additional companies of paramilitary forces for Meghalaya on Wednesday evening and there is talk of a police operation in all three Garo Hills districts in the state, overrun by militancy in the last few years.