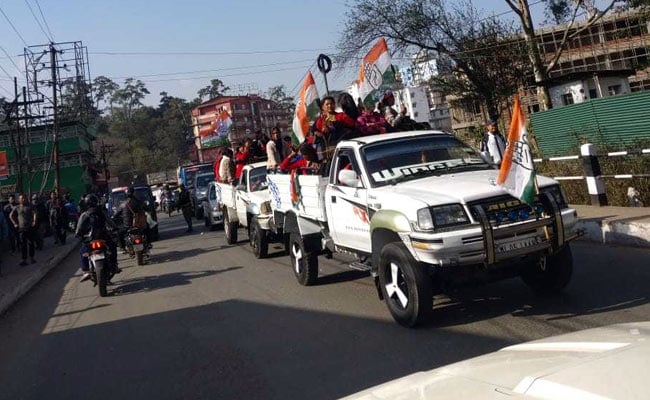 Highlights
Congress finishes in top spot but falls short of majority mark
Congress rushes leaders Kamal Nath, Ahmed Patel to Meghalaya
BJP Northeast strategist Himanta Biswa heads to Shillong for negotiations
Shillong:
Tripura added to the growing list of states it rules in what the party called a "historic verdict," the BJP quickly shifted its focus to
Meghalaya
today as votes were counted for
assembly elections in three northeast states
. The party's northeast strategist Himanta Biswa Sarma headed to state capital Shillong where hectic negotiations are on with Meghalaya giving a majority to no party. The Congress rushed top leaders too.
The Congress - which ruled the state for the last 10 years straight, eight of them with its senior leader Mukul Sangma as chief minister - is the largest party with 21 seats, ten short of the 31 needed to form government.
The number 2 party with 19 seats is the National People's Party (NPP), founded by former Lok Sabha Speaker PA Sangma and now led by his son and lawmaker Conrad Sangma. A partner of the BJP in the North East Democratic Alliance and also a member of the national alliance NDA that the BJP leads, the NPP contested the Meghalaya elections separately. As did another BJP partner the United Democratic Party, which has won six seats.
The BJP, making gains in a state where it had won no seats in 2013, has won two. It has indicated that it will attempt to put together a post-poll alliance. "Meghalaya is heading for a divided house. We will see how we can form a non-Congress government there," said senior BJP leader Ram Madhav.
Other regional parties and Independents will play a key role - together they have won 11 seats and could swing it either way with their support.
As it became clear that there would be a hung assembly, top Congress leaders Kamal Nath and Ahmed Patel boarded a plane from Delhi for Shillong. The party, caught napping in two states last year that voted a hung assembly, is taking no chances this time. "Associates have assured support in the last one hour. BJP is out of the fray, they are trying to create mischief. This shows their mischief," Kamal Nath told NDTV on Saturday afternoon.
The movement of top central leaders by the Congress is an attempt to ensure quick negotiations for the support of smaller parties and Independents to form government.
In another northeast state Manipur last year, the BJP outwitted the Congress, which was the single largest party but failed to move quickly enough to form government. The BJP swiftly announced an alliance and formed government.
In Goa too, where elections were held at the same time, the BJP was second to the Congress but was quicker to contact regional parties and form government.
"The game they played in Manipur and Goa, people saw that. They kidnapped MLAs. This time we will not let them do that. We won't let the BJP break our party," said senior Congress leader Ashok Gehlot, insisting his party is well positioned to form government in the Meghalaya.
In 2013, the Congress had won 28 of Meghalaya's 60 seats and had formed government with the help of Independents.