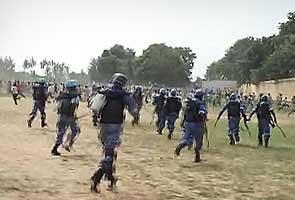 Meerut:
A panchayat called in Khera village in Meerut today to protest the arrest of the BJP leader Sangeet Som under the stringent National Security Act turned violent with the villagers clashing with the police.
The police had to resort to lathicharge to control the irate mob, which pelted stones at the policemen and damaged police vehicles. 24 persons have been arrested, the UP police said.
The villagers resorted to stone pelting after rumours spread that some women of the village were injured in the police lathicharge. Police fired warning shots in the air and used tear gas to control the mob. Reports say some cops were injured.
Despite the prohibitory orders, reports say over 2000 people, including a few local BJP leaders, gathered at a school ground in Khera village to Mr Som's arrest for his alleged involvement in inciting the Muzaffarnagar violence.
Mr Som's supporters planned the panchayat less than a month after communal clashes between the Jats and Muslims killed nearly 50 people and displaced more than 45,000 people in the adjoining Muzaffarnagar district.
A similar 'mahapanchayat' had acted as the trigger for the Muzaffarnagar violence.
Mr Som was booked under the National Security Act earlier this week for allegedly making hate speeches and distributing a fake video on his Facebook page. The two-year-old video, showing the killing of two men, was shot in Pakistan.
Another BJP legislator Suresh Rana was booked under the same Act on Thursday.