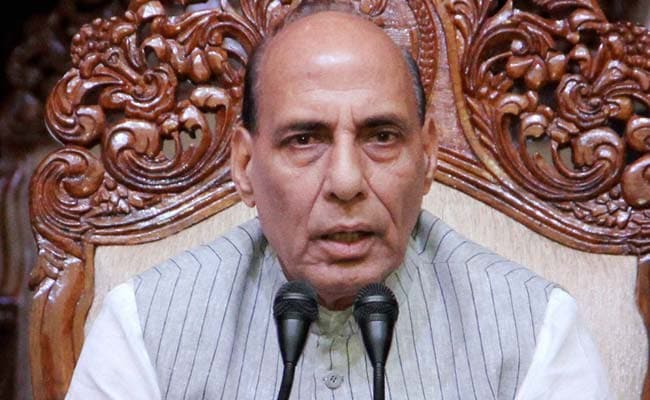 Nizamabad:
Union Home Minister Rajnath Singh today ruled out talks with Pakistan until it stops aiding cross-border terrorism aimed at destabilising India.
Speaking at a public meeting in Nizamabad as part of Telangana Liberation Day celebrations, Mr Singh said India has a policy of maintaining cordial relations with neighbours. "Some people suggest that we should engage in dialogue with Pakistan. I would like to say that we are ready to talk to anyone. But Pakistan is unable to understand this thing, till Pakistan does not stop its attempts to destabilise and weaken India by encouraging cross-border terrorism, holdings talks with it has no meaning."
He also referred to the oath-taking ceremony of the Modi government in 2014, when premiers of all neighbouring countries, including Pakistan, were invited. "The idea was that we wanted to build good relations with all of them. We invited them not just for shaking hands, but to maintain cordial relations," the home minister said.
The government is determined to stop all sorts of destabilising activities in the country, he said, and alleged that Pakistan is violating ceasefire agreements. "It started sending terrorists into our country. It violates ceasefire agreements. I want to assure you that we will end terrorism, extremism and Naxalism too," he asserted.
The situation on the border has changed as India began giving befitting reply to the enemy, which has "set an example in country's history", Mr Singh said.
Recalling an incident where five Indian civilians were killed in cross-border firing by Pakistan, the home minister said he had a conversation with a top official of the Border Security Force in 2014 where he asked the official to act tough on intruders and Pakistan's anti-India activities. "I told the BSF DG not to show 'white flag' (signal for talks) next time but give them a befitting reply."
Mr Singh also cautioned people against those trying to divide the country on the basis of community, caste and language. "Today, the (Telangana) Liberation Day, we have to take a pledge that we will ensure that the country will not be divided on the lines of community, caste and language. Those who try to weaken the country are anti-national forces. I want to assure you that no power in the world can weaken India," he said.