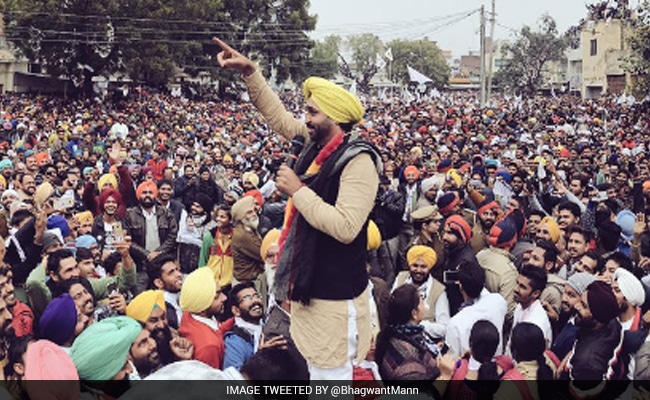 Highlights
Party leadership "behaving like a mohalla cricket team": Bhagwant Mann
Mr Mann asks party to introspect why it lost in Punjab
In Delhi too, some AAP leaders are questioning the leadership's stand
New Delhi:
After another
election
defeat this year, Arvind Kejriwal's Aam Aadmi Party (AAP) has again blamed EVMs or Electronic Voting Machines. AAP lawmaker Bhagwant Mann, however, is not buying it and he has gone public with his savage critique of the party.
The party leadership is "behaving like a mohalla (local) cricket team," Mr Mann said on Wednesday after
AAP's defeat in the Municipal Corporation of Delhi
(MCD) election just two years after it won a colossal mandate to rule Delhi.
The BJP has retained the three municipal corporations with a huge majority, while AAP has emerged a distant second. Since the 2015 Delhi election, AAP's vote share has dropped by almost half from 54 per cent to around 26.
AAP's Delhi-in charge Dilip Pandey resigned yesterday and this morning, two more leaders, Sanjay Singh and Durgesh Pathak, quit their posts in Punjab.
Mr Mann, a 43-year-old popular stand-up comic, was among the key players in AAP's failed campaign in Punjab, where it fell hopelessly short of expectations and lost its debut state polls last month. After winning only 20 of Punjab's 117 seats, the party raised doubts about EVMs and said they had been tampered with. It has become a recurring theme for AAP.
The lawmaker said it was
useless to find fault with EVMs
and the party should introspect why it lost in Punjab.
"AAP committed a historic blunder in Punjab on its electoral strategy," said Mr Mann.
Another AAP leader in Punjab, Gurpreet Singh Ghuggi, seconded the criticism.
Reacting to Mr Mann's comments, top AAP leader and Deputy Chief Minister in Delhi, Manish Sisodia, said the party would introspect but it "does not mean EVMs were not tampered with".
"It is hard to believe that the BJP can win this kind of a victory when AAP has done so much. This is not a (Prime Minister Narendra) Modi wave but an EVM wave," Mr Sisodia said yesterday.
"There is no reason why people would vote for the BJP (in the MCD polls). We will analyse the reasons behind our defeat. We would have understood if there had been a difference
of two-four seats, but this kind of margin between the two parties can only happen if EVMs are rigged," Mr Sisodia said.
In Delhi too, some
AAP
leaders are questioning the leadership's stand.
"We need to see why we lost in Delhi despite winning 67 out of 70 seats in Delhi just two years ago," said an AAP minister.