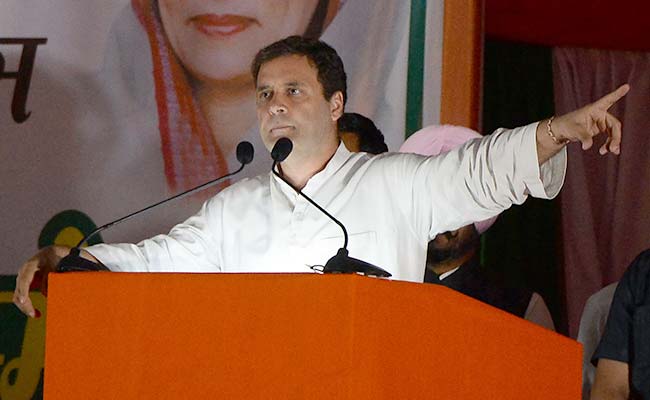 Highlights
After Delhi loss, Congress' Ajay Maken, PC Chacko had offered to quit
Rahul Gandhi rejects resignations; "continue working," he says
Congress came a distant third in Delhi civic polls
New Delhi:
A day after Delhi Congress chief Ajay Maken and the party's in-charge for the state PC Chacko sent in their resignations assuming moral responsibility for the debacle in polls to Delhi's three municipal bodies, party vice-president Rahul Gandhi on Thursday asked them to "continue to do the work they are doing."
Sources in the Congress said Mr Gandhi, 46, asked the two to continue the work for strengthening the party after they met him today, according to a Press Trust of India report.
Mr Gandhi, sources say, told Mr Maken and Mr Chacko that the party had improved upon its performance since the last assembly poll and that efforts were needed to strengthen the party further. The Congress could only win 30 wards in the three municipal corporations, but increased its vote share from about 9 per cent in the 2015 assembly elections to 21 per cent.
"They have done a good job, if not a perfect one," sources quoted Mr Gandhi as telling Mr Maken and Mr Chacko.
The Congress vice-president also said that they should have taken other party leaders along.
Mr Maken has been accused by senior leaders in the Congress of running a one-man show that forced unprompted errors, like in the selection of candidates, for example.
"MCD election became a one-man show in Congress, that of PCC chief Ajay Maken," said Sheila Dikshit on NDTV's Walk The Talk programme today. Ms Dikshit, 79, who has served three terms as Delhi Chief Minister for the Congress, said she had not been invited to campaign for the party.
Other senior leaders like AK Walia and Arvinder Singh Lovely had also blamed Mr Maken for exclusionary tactics. While Mr Walia had threatened to resign, Mr Lovely did quit the party and joined the BJP a week before Delhi voted.
The polls to Delhi's three civic bodies were won emphatically by the BJP on Wednesday, and the party managed to better its 2012 performance. Arvind Kejriwal's Aam Aadmi Party settled for the second spot, while the Congress came a distant third. The Delhi result continues a string of setbacks for the Congress ever since it could win only 44 parliament seats in the 2014 national election, its lowest tally ever.
With inputs from PTI