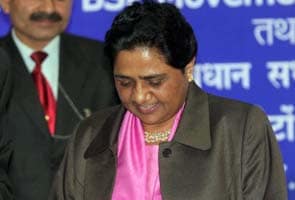 Lucknow:
Her defeat in the Uttar Pradesh elections may have been brutal. But if Mayawati needs cheering up, she could review her long list of assets. The former chief minister of Uttar Pradesh shared the details of her property, cash and jewellery as she filed her nomination for the Rajya Sabha. It's an impressive portfolio.
In the last two years, her assets have shot up by 24 crores. So how much is Mayawati worth exactly? 111 crores.
Behenji, as the former chief minister is known, has said she has 380 carats of diamonds, and one kilogram of gold. Together, these are worth just under a crore. Her silver dinner set, which weighs nearly 20 kgs, is worth 9 lakhs.
Her immovable assets - largely property - add upto 96 crores. This includes two shops in Delhi's Connaught Place, a home worth 62 crores on Sardar Patel Marg, one of Delhi's most sought-after neighbourhoods, and a home in Lucknow worth 15 crores.
In May 2010, her assets were worth 87 crores.
This morning, she filed her nomination for the Rajya Sabha. Last week, she was voted out of power in UP. Her party managed less than 100 of the 403 seats in the UP assembly. The Samajwadi Party, with whom she shares a bitter rivalry, won the elections with astounding numbers. Once she is elected to the Rajya Sabha, she will resign from the UP Assembly.
Explaining her decision to move to the Rajya Sabha, Mayawati said her party has decided that with the general elections just two years away, she wants to prep her strategy. That will include drawing parliament's attention to the crime and lawlessness in UP, she said.
The BSP chief also said, "The party men have said I should increase party's support base all over the country and not just in UP. They said they would not want me to devote all my time here."