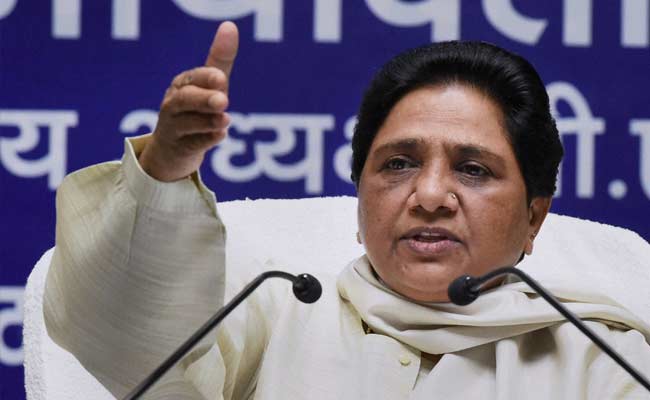 New Delhi:
BSP supremo Ms Mayawati today attacked RSS chief Mohan Bhagwat's statement on review of quota regime and threatened a nationwide protest against the Narendra Modi government if it "toed" the line of the Sangh leader.
"If the Narendra Modi government tries to toe the line of Bhagwat, if it tries to tamper with the humanitarian provision of reservation as enshrined in the Constitution, then BSP will launch a nation-wide mass agitation which will prove costly to the government," she said at a press conference in New Delhi.
The former Uttar Pradesh Chief Minister said the RSS wants to push the Dalits and the downtrodden back into the "dark ages of exploitation" against which B R Ambedkar had to struggle and framed a Constitution based on humanitarian considerations.
She claimed Mr Bhagwat's remarks have created a lot of anguish among the Dalits and the backwards. "But so far neither the Narendra Modi government nor the BJP have come out openly to reject the demand of the RSS for which the BSP criticises them in strongest possible words."
She "warned" the government of a nation-wide stir if it takes any step in favour of the RSS chief's demand.
"We did the same during the rule of Atal Bihari Vajpayee government when it tried to end reservation in the garb of Constitution review. The then government was forced to withdraw its agenda," she said.
She said BSP is concerned on the issue of review of the reservation policy as the reins of the PM Modi government are in the hands of the RSS.
"The government can any time definitely do something in one way or the other to tamper with the arrangement of reservation. Therefore, we will keep a vigil on the issue," she said.
Dubbing BJP and Congress as "extremely casteist", Ms Mayawati said the two have done little to improve the condition of the Dalits and the backwards in the last several years.