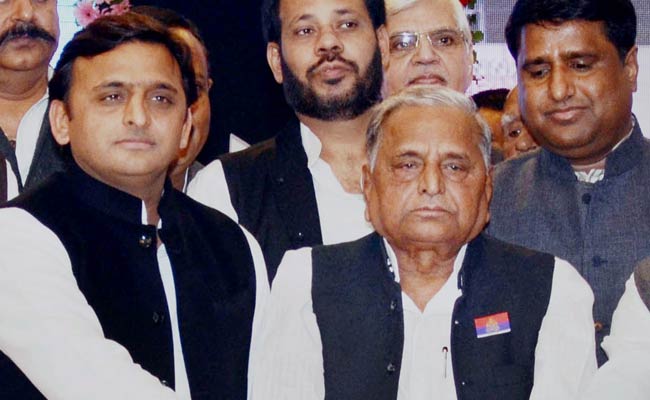 Highlights
Akhilesh and father Mulayam have been warring in Uttar Pradesh
Rift round growing role given by Mulayam to Shivpal Yadav
Shivpal is Mulayam's brother and cabinet minister
New Delhi:
Akhilesh Yadav has written to his father today, seeking sanction to start his campaign for a second term as Chief Minister on November 3. The 43-year-old has somewhat dryly pointed out that other parties in Uttar Pradesh have already launched their bid for the election, due in the next few months.
His itinerary suggests that he will skip a large celebration, planned in Lucknow on November 5, to mark his party's 25th anniversary, an event which will be centered on his father, Mulayam Singh Yadav, who is president of the Samajwadi Party.
On Monday, Mulayam Singh confirmed that his son will be the party's presumptive Chief Minister. When asked the same question last week, he had left it open-ended, doing little to dispel the talk of a family at war with itself.
The political chasm between father and son owes much to Shivpal Yadav, who is Mulayam Singh's brother and not Akhilesh Yadav's favourite uncle. The Chief Minister is aligned with Ramgopal Yadav, his father's cousin.
The rivalry between Shivpal and Ramgopal Yadav is well-marked in UP's political landscape.
In recent months, as Shivpal Yadav, who is also a cabinet minister, took controversial decisions, Akhilesh Yadav objected - only to be over-ruled by his father. So while the Chief Minister vetoed Shivpal Yadav's move to tie up with a small regional party headed by a former gangster, Mulayam Singh finally allowed it. Last month, Akhilesh Yadav was replaced by Shivpal Yadav as the party chief in Uttar Pradesh.