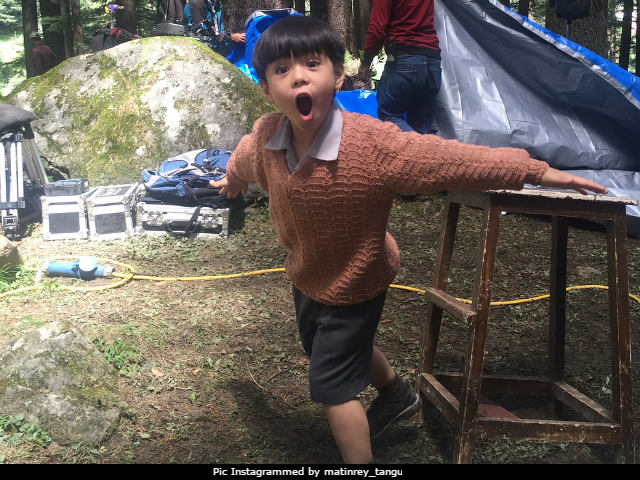 Highlights
Matin shot for Tubelight in Manali and Ladakh
He kept his Instagram updated with posts from the hill stations
Matin also shared pics with Chinese actress Zhu Zhu and the director
New Delhi:
Matin Rey Tangu is not done with
Tubelight
yet. Eight-year-old Matin, who hails from Arunachal Pradesh,
adorably co-starred with Salman Khan in Tubelight
and melted the coldest of hearts with his antics. The sight of Matin Rey Tangu was the most adorable thing you could have spotted on the sets of
Tubelight
, evidence of which is on Instagram. Matin appears to have an unverified account on Instagram, which he ensures is updated - mostly with posts from when he was filming
Tubelight
. Salman and Matin's characters
were indeed partners in crime in Tubelight
but Matin doesn't believe in favouritism. From Chinese actress Zhu Zhu to director Kabir Khan, everybody gets to feature on his Instagram feed.
Matin's Instagram diary smells of grass, fresh air and the hills.
Tubelight
, which is set against the backdrop of the Indo-Sino war of 1962, has extensively been shot in parts of Manani and Ladakh.
What if we did not get a blockbuster response to
Tubelight
, we got Matin, right?
Meanwhile,
Matin could also have grown up to be a chef but then
,
Tubelight
happened. "I want to be an actor. Ab actor ban gaya toh ban gaya (Now, I have become an actor so I will continue). I will cook in free time," Matin had told Salman when asked about his plans of becoming a chef. However, Matin most famously featured in headlines with his response to a reporter who thought he was Chinese and asked him if this was his first visit to India. "
Hum India per hi baithta hai, toh India mei toh aayega na
(I live in India only)," Matin had said.
Matin Rey Tangu, you get 10 on 10 for being amazingly cute.
Apart from Matin Rey Tangu, what also makes
Tubelight
special is that it casts Salman and Sohail Khan as brothers. It is also the last film late actor Om Puri worked in.