Highlights
Banking system is grappling with surplus cash as credit offtake is low
But stock markets rallied on hopes of a rate cut from RBI
Consumer price inflation fell to a record low in June
Earth to investors piling into India: the economy's rough patch endures.

Consumer price inflation hit another record low in June, adding to evidence the $2.3 trillion economy is struggling amid government reforms, a festering bad loan crisis, a widening output gap and rising unemployment.

While bond markets are rallying as investors wager the latest data will trigger a rate cut from the Reserve Bank of India, the figures signal the economy faces hurdles even as the stock market surges to a record, the rupee rallies and the world's major economies head into a new era of higher borrowing costs.

"There's pressure on RBI to lower rates," Madan Sabnavis, chief economist at CARE Ratings, said on the phone from Mumbai, before the data. "There is a lot of surplus funds available in the system; but investments and lending isn't happening."

Some of the pessimism stems from the fact that is India is still recovering from a cash ban that interrupted employment for millions, forced farmers into fire sales of agricultural produce and bogged down the manufacturing sector. The introduction of a goods and services tax on July 1 only added to the confusion while a glut of bad loans means businesses are not borrowing to invest in Asia's third-largest economy.

Bank credit to industry contracted in the year to May, while deposits surged following the ban of high-denomination notes in November, leaving the banking system grappling with surplus cash.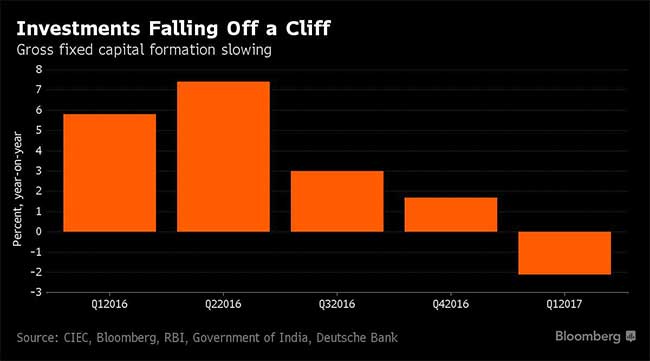 Data on Wednesday showed headline consumer price inflation at 1.5 percent in the year to June, down from an annual 2.2 percent a month ago and below forecasts for a 1.6 percent reading. That's below the RBI's medium term target of 4 percent and through the bottom of its 2 percent projection for the first-half.

Separately, industrial production grew 1.7 percent in the 12 months to May, down from 2.8 percent in April and below the 2 percent forecast in a Bloomberg survey, backing recent data that pointed to a slowdown in the manufacturing sector before the introduction of the GST.

Paradigm Shift

Arvind Subramanian, chief economic adviser to the government, said India was undergoing a "paradigm shift" in inflation.

"This low number and what it implies about underlying price pressures -- as well as the latest IIP data just released -- is something that, I am sure, policy makers will reflect upon very, very, carefully," he said in a statement.

Worryingly for policymakers, falling inflation can foretell slowing growth and demand. In the January-March quarter, India grew 6.1 percent from a year ago, below the five-year average of 6.9 percent. That's still a robust rate for the western world but not good enough to provide jobs for the millions people joining the workforce every year.

Investment Slowdown


India will expand 7.3 percent in the 2018 fiscal year, according to a June survey of analysts conducted by Bloomberg News. Growth forecasts were lowered slightly for this year and next when compared to a survey conducted in May.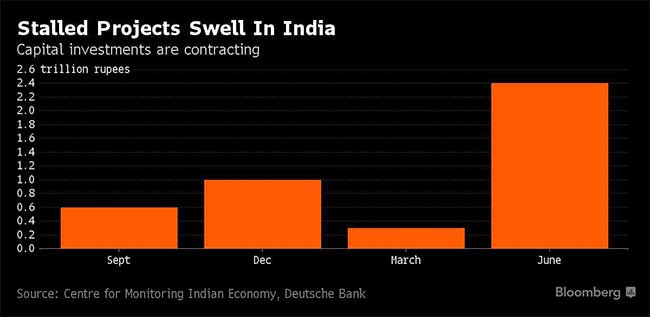 The slowdown mirrors a subdued private investment climate and has triggered a debate over whether the central bank should abandon its relatively hawkish bias and cut interest rates to jump start flagging corporate investment.

"The RBI should cut rates by at least 50 basis points if they want to help genuine borrowers," said Rupa Rege Nitsure, group chief economist at L&T Finance Holdings Ltd. in Mumbai.

That view is slowly gaining ground; the median forecast in the Bloomberg survey is for India's repurchase rate to drop to 6 percent in the third quarter from 6.25 percent currently. One representative of the central bank's six-member monetary policy committee also favor's a cut.

Real Rates

The RBI started a rate cutting cycle in 2015, lowering the policy rate by 175 basis points through October.

"Actual growth is lagging due to demonetization and high real interest rates," Abhishek Gupta, economist at Bloomberg Intelligence, said in a report. "The upshot -- a widening output gap that is pulling down inflation. The RBI needs to cut rates to let growth catch up to the economy's potential."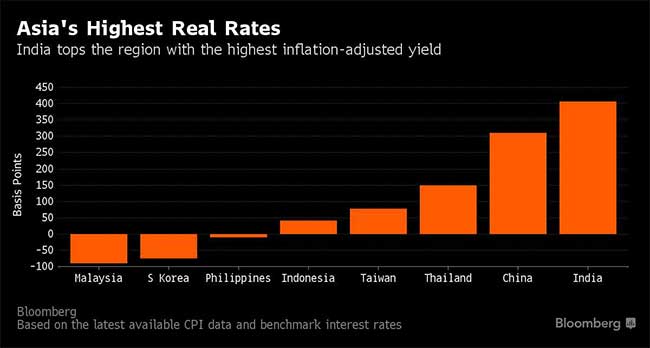 But others like Deutsche Bank's chief India economist, Kaushik Das, says a rate cut won't accomplish much. "It is clear by now that leverage is concentrated in certain sectors such as steel, infrastructure and telecom and the debt levels in these sectors are so high, it is unlikely that monetary policy will be able to do much to improve the situation meaningfully," he said.

"Also, while considering deeper rate cuts, the central bank will need to keep in mind the interest of the savers and pensioners and evaluate the risks to financial sector stability."

India's rough patch hasn't deterred investors who are buying into the country's longer-term prospects -- including one of the world's youngest demographics. That's driven down bond yields, pushed the stock market up almost 20 percent this year to among the world's best performing, and sent the rupee about 5 percent higher against the U.S. dollar.

"India has witnessed robust foreign portfolio investment flows, heavily tilted towards debt owing to better carry, helping keep the rupee afloat," Madhavi Arora and Upasna Bhardwaj, economists at Kotak Mahindra Bank Ltd. wrote in a note. "However, expectations of narrowing real rate differentials with the U.S. amid an August cut by the RBI will weigh on debt flows."
(Except for the headline, this story has not been edited by NDTV staff and is published from a syndicated feed.)