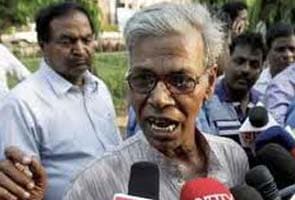 Berhampur:
Social activist Dandapani Mohanty, who negotiated with Maoists and helped the Odisha government to resolve two abduction crises in the past, was on Friday arrested for his alleged link with the Left-wing rebels, police said.
Mr Mohanty was arrested from his home in Berhampur town, about 180 km from here, a senior district police official told IANS.
"At least six non-bailable warrants were pending against him. Besides, he was found to be involved in more than a dozen of criminal cases mostly related to Left-wing violence, including blast, abduction, rioting," the official added.
Mr Mohanty's wife, Geetanjali, expressed her surprise about the way a police team picked up Mohanty from home. "If he has Maoist links, why did police not arrest him earlier? Why did the government request him to mediate?" she told reporters.
Mr Mohanty, who is an elderly communist leader and is known for his fight on rights related issues, has been critical of the government functioning, especially in recent months after his engineer son Sangram was arrested in December last year on the charge of supplying arms to the rebels.
Police had also slapped five more cases against Sangram, including a rape case, earlier this week.