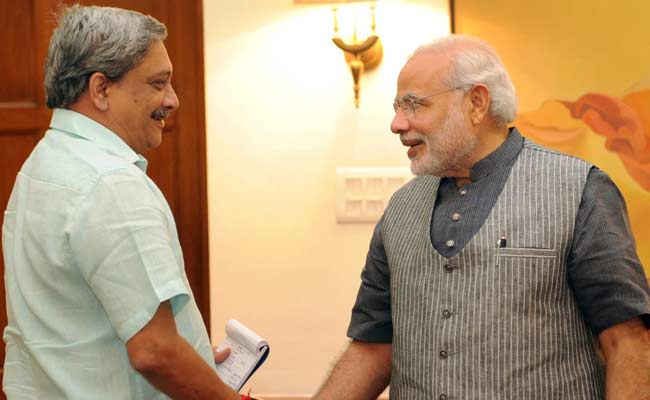 Goa Chief Minister Manohar Parrikar, an IIT graduate, is likely to be India's new Defence Minister. He may join Prime Minister Narendra Modi's cabinet in an oath ceremony on Sunday, sources have told NDTV.
Mr Parrikar, 58, is seen as a fit candidate for the job with his tech background and impeccable record.
Currently, Arun Jaitley holds both the Finance and Defence ministries, but sources say the prime minister wants his full focus on finance ahead of his government's first Budget next year.
The defence ministry was added to Mr Jaitley's responsibilities as part of the "super-ministries" concept that PM Modi reportedly favoured when he took oath with a lean cabinet in May.
But the government has realized that the two ministries need to be separate as the Defence Minister requests funds and the Finance Minister has to either approve or reject it.
To give Mr Jaitley elbow room, PM Modi has reportedly decided to appoint a separate defence minister and that, in all likelihood, seems to be Mr Parrikar.
Mr Parrikar spent a day in Delhi on Wednesday meeting PM Modi, BJP president Amit Shah and others. "I came to discuss Goa issues. (PM Modi) did not say anything about that (union minister). Ask the PM," he told reporters later.
Sources close to Mr Parrikar told NDTV that if offered, the "party has asked him to accept any post given by the PM."
Before returning to Goa this morning, the 58-year-old remained noncommittal and chided reporters, saying, "Why put the horse before the cart?"
Mr Parrikar will meet all Goa BJP legislators today to discuss his replacement.
The BJP's options for Chief Minister of the popular beach destination include veterans who are deeply connected with the party's ideological mentor Rashtriya Swayamsevak Sangh - Health Minister Lakshmikant Parsekar and Goa Assembly Speaker Rajendra Arlekar.
Both have been state BJP presidents in the past and, along with Mr Parrikar, are credited with establishing the BJP's base in Goa while confronting the Maharashtra Gomantak Party and the Congress.