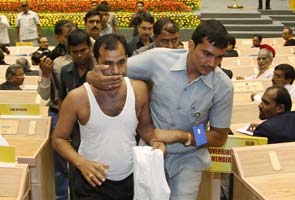 New Delhi:
A man raised slogans against Prime Minister Manmohan Singh and attempted to disrupt his speech at a conference at Vigyan Bhavan in New Delhi today. The protester has been released after he was detained for questioning.
Just when the PM was about to begin his speech, the man, who was seated in the audience, stood up on a table, took off his shirt and shouted slogans like "pradhanmantri vapas jao (Prime Minister go back)." He also demanded a rollback of the recent hike in diesel prices. (
Watch Video Here
)
The protester was immediately overpowered by Delhi Police personnel. As they were leading him out of the meeting hall, one security officer placed his hand over his mouth to muzzle his shouts. He was then taken to Tughlak Road police station, but was later released after being questioned for a few hours. However, no case was filed against the protester.
The protester has been identified as Santosh Kumar Suman, a 33-year-old lawyer registered with the Supreme Court Bar Association. He had an invitation card for the conference and was carrying an identity card issued by the Delhi Pradesh Rashtriya Janata Dal.
After the interruption, the PM waited for a while as security officials took the protester away and then continued with his address. Dr Singh has requested that the protester should not be harassed.
The incident happened a day after the PM defended in a televised speech his government's decisions to increase the prices of diesel and cap the supply of subsidised cooking gas. He also justified the move to allow foreign mega-stores like Wal-Mart to arrive in India. These recently introduced reforms have hurtled Dr Singh's government into a minority.
Pitching for these reforms again today, the PM in his speech stressed on the need to build a climate to attract investment. "We must build a climate that attracts investment and encourages and rewards innovation, and establish fair and effective regulatory institutions and also legal processes," he said.
The 'Conference on Economic Growth in Asia and Changes of Corporate Environment' was organised at Vigyan Bhavan by Indian Law Institute. It was attended by delegates from 14 countries and also Chief Justice of India S H Kapadia and Law Minister Salman Khurshid.
When asked for his reaction, Minister of State for Parliamentary Affairs, Rajiv Shukla, tried to downplay the incident. "Why give it so much importance? You know how some opposition parties are criticising the PM," he said. Defending the reforms, he said they will benefit the farmers. "The PM's address to the nation has certainly gone down well. It was a genuine expression of feelings. He wants to save the economy."
But seizing the opportunity to attack the government, BJP spokesperson Shahnawaz Hussain said the protest by the lawyer was an indication of "people's anger". "It is clear that the people are angry with policies like FDI in retail. Different people have different ways to vent their anger," he said.
(With Inputs from Agencies)