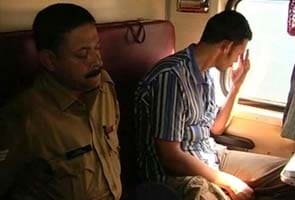 Alwar:
A team of Kerala Police today arrived in Alwar, Rajasthan with the man it suspects to be Bitti Mohanty, a rape convict, who was on the run for more than six years. The police team took him to the district jail to verify his identify, signature, birth marks and physical description as per the jail records.
From Alwar, the man will be taken to Jaipur.
The man, escorted by six policemen from Kerala, travelled for two days in an AC II tier coach of Mangala Express to reach Alwar. In another compartment, was a team of policemen from Rajasthan, including a cop who identified the man in Kerala as the rapist he arrested in 2006 in Alwar.
During the journey, the man was not handcuffed; he did not speak to anyone much. He sat by the window, occasionally holding his forehead and ate vegetarian meals. He got briefly flustered when some media teams tried to question him. He was allowed to walk for a few minutes on the platform of the Mathura station with police escorts.
Bitti Mohanty, the son of a former top cop in Odisha, was convicted in March 2006 for raping a 26-year-old German national in a hotel in Alwar, Rajasthan. On November 20, after spending seven months in jail, he was allowed to leave prison on parole on the plea that his mother in Odisha was unwell and wanted to meet him. He had been missing ever since.
He was arrested in Kannur in Kerala on February 8. The police says he reinvented himself as Raghav Rajan, taught at a school in Andhra Pradesh, completed an MBA in Kerala, and was hired by a state-run bank. He was arrested after an anonymous letter warned his bosses at the bank where he worked that he was a much-wanted rapist.