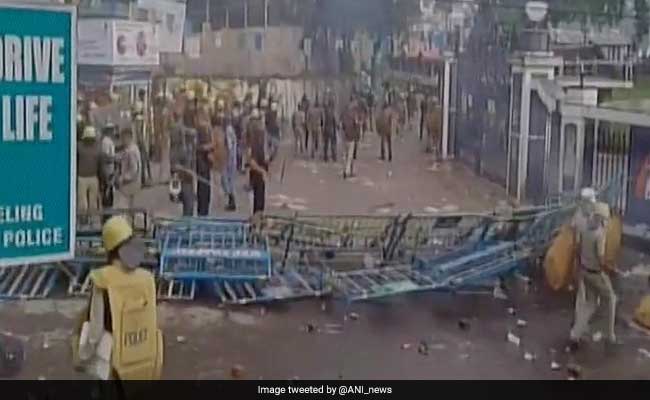 Darjeeling:
Mamata Banerjee called in two columns of the Army in Darjeeling this evening after supporters of the Gorkha Janmukti Morcha, the BJP ally that is the dominant political party in the hills, threw stones at the police who lathi-charged and tear-gassed them. The Morcha has called a 12-hour bandh tomorrow. The chief minister, who is in Darjeeling, has stayed back there to ensure tourists exit safely.
As police fled from the brickbats, the Morcha supporters ran, some towards the mall crowded with tourists, others towards Raj Bhavan. There were some tense moments when eyewitnesses thought the Morcha men would storm the governor's house. But police kept them at bay.
Ms Banerjee's decision last week that Bengali would be made compulsory in schools from class 1 to 10 had angered the inhabitants of the hills. She did a bit of a roll back and said on Sunday and today that Bengali is not a must in Darjeeling. But the Morcha wanted a Cabinet resolution in writing to the effect.
Bimal Gurung, leader of the Morcha and chief executive of the Gorkhaland Territorial Administration (GTA) which has partial autonomy to run Darjeeling's administration, led the protest in the afternoon but when the clashes took place, he was in a party meeting at Bhanu Bhavan nearby.
At least a dozen police vehicles were set on fire in the area. A government bus was also set ablaze at Chowrasta, not from the mall. Shops were closed and tourists locked themselves in their hotels.
The government has arranged for special bus services for tourists who want to leave Darjeeling tomorrow. The state will run buses at frequent intervals from 6 am when the 12 hour bandh begins. The Bagdogra airport has also been alerted and will open for passengers earlier than usual at 5 pm.
While most of Ms Banerjee's ministers have left Darjeeling for Siliguri today, she has stayed on and will remain in Darjeeling till normalcy returns. Sources said she may return to Kolkata tomorrow. Meanwhile, local authorities have asked cable TV channels to stay off air for a couple of days.
Today, Mamata Banerjee did hold a cabinet meeting in Darjeeling's Raj Bhavan - a first in 45 years - but did not take up the Bengali issue.
Asked about it, she was dismissive of Morcha protests being held barely 200 metres away. "Bengali has not been made compulsory... that issue is over... This is not an issue at all... those who don't have issues...they raise such issues sometimes," she said.
But the animosity was building up and clearly underestimated. Yesterday, several Morcha leaders were in Kolkata and submitted a memorandum to the governor. They also met state BJP leaders, including state chief Dilip Ghosh.
"Mamata Banerjee needled Darjeeling to create trouble. Why was she going there so often? Did she have a travel pass or something?" Mr Ghosh said today.
The CPM called it an "alarming" situation in Darjeeling. "Mamata Banerjee organised a faulty pact with the Morcha on the autonomy issue," Mr Md Salim, CPM lawmaker said.
"Then she kept saying Darjeeling was smiling but never gave the Gorkhaland Territorial Administration powers. Now she has had to call in the army. But the solution to the problem is not force. Darjeeling is not a law and order problem."
Darjeeling's trouble erupted in the 1980s with a violent agitation for the separate of Gorkhaland. The hill party, Morcha, settled for partial autonomy after Mamata Banerjee came to power in 2011 but now they are clearly dissatisfied. The Bengali language issue has fanned the flames of Gorkhaland once again.