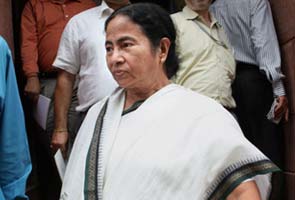 New Delhi/Kolkata:
A "furious" Mamata Bannerjee put a 72-hour deadline for the government to withdraw its decision to allow foreign direct investment in multi-brand retail and aviation, the hike in diesel prices and the restrictions on subsidised cooking gas or face the "consequences".
Trinamool's minister in Cabinet Mukul Roy has told the government that party chief Mamata Banerjee is furious and that their support shouldn't be taken for granted by the Congress.
The party has called for meeting of its leaders on Tuesday and has said that a "major decision" could be taken then.
The party, which is part of the UPA government, is strongly opposed to FDI in retail and was one the main reasons for the policy being held up from last year.
Just after the announcement of FDI in retail today, Trinamool MP Kunal Ghosh had said that the his party chief would take a "second" to withdraw support, but didn't want to blamed for destabilisng the government and horse-trading in Parliament