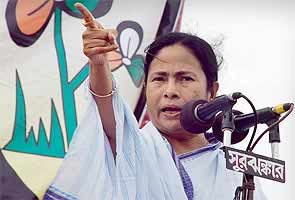 Kolkata:
West Bengal Chief Minister Mamata Banerjee, undergoing medical treatment for the last three days, was today discharged from the Belle Vue Clinic after agreeing to take rest, as adviced by doctors.
"The chief minister was insisting on returning home since morning and her doctors decided to discharge her with a request to take rest," clinic's CEO P K Tondon told PTI.
Mr Tondon, quoting the chief minister, said she shouldered much responsibility and should be allowed to return home.
The medical team advised her to rest for at least two weeks.
A medical bulletin issued earlier in the day said that the chief minister was clinically better and her vital parameters had stabilised, but pain still persisted.
A ten-member team headed by Subroto Maitra attended on the chief minister since she was admitted on April 10 after arriving from Delhi.
The chief minister fell ill after she was heckled and Finance minister Amit Mitra manhandled by SFI members when she was entering Yojna Bhavan in New Delhi a day earlier.