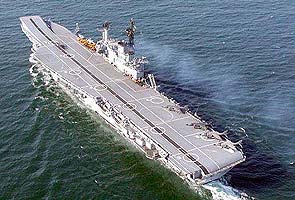 New Delhi:
INS Viraat, the Navy's only aircraft carrier, is currently getting a major overhaul at the shipyard in Kochi which will allow it to serve till 2016.
The British-made carrier has been in service for the past 53 years - it was first with the UK Navy, and then with the Indian navy for 28 years.
The effective life of any ship with the best of refits and repairs is about 40 years. The INS Viraat has beaten that average handsomely.
After its hull is repaired in Kochi, it will sail to Mumbai for other repairs and is unlikely to join the Navy before July.
"This is the last major refit that INS Viraat is likely to see" a senior navy official told NDTV.
Its replacement, the INS Vikramaditya, which is being bought for 12,500 crores from Russia, will reach India in 2014, and not November, as last promised by Russia. The induction of the 45,000-tonne aircraft carrier that can carry about 30 aircraft has already been delayed by a year, provoking a sharp reprimand recently for Moscow by Defence Minister AK Antony.
Another two aircraft carriers, which are the largest warships to be made by India, are also running behind schedule. They are being built at the Kochi shipyard and are unlikely to be available to the Navy before 2018.
They are likely to be named the INS Vikrant, the warship bought from the UK, which joined the Indian Navy in 1957 and was decommissioned after 40 years.
With the US likely to shift its focus from the Gulf to Asia Pacific, India is expected to exert a stabilising effect in the area. Besides, with the increased militarization of the Indian Ocean region - because of the increased American and Chinese presence - India needs to have more assets in place to be protect its trade and boundaries.