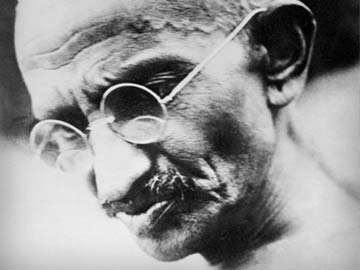 London:
Three explosive letters that highlight Mahatma Gandhi's deep concerns over the behaviour of his eldest son, Harilal, will go under the hammer in England next week.
Mullock's Auctioneers, based in Shropshire county, are hoping to fetch between 50,000 pounds and 60,000 pounds for a set of three letters written by Mr Gandhi in June 1935.
"You should know that your problem has become much more difficult for me than even our national freedom," says Mr Gandhi, in one of the letters in reference to allegations of inappropriate behaviour by Harilal.
"Manu is telling me number of dangerous things about you.
"She says that you had raped her even before she was eight years and she was so much hurt that medical treatment was also to be taken," the letter reads, in reference to Harilal's daughter Manu who had come to stay with her grandfather at Sabarmati Ashram in Ahmedabad in Gujarat.
"The letters are written in Gujarati and are in good condition. These have come via descent from a branch of Gandhi's family to the present vendor. As far as we are aware, they have never before been seen in public and as such, they provide remarkable new information on the troubled relationship Gandhi had with his son," Mullock's said in a statement.
Harilal Gandhi had wanted to go to England to study to become a barrister like his father but the latter had firmly opposed it, believing that Western education would not be helpful in the struggle against the British Raj.
This led to Harilal renouncing all family ties in 1911 and his troubled relationship with his father continued throughout his life.
"Please let me have the pure truth, please tell me if still you are interested in alcohol and debauchery. I wish that you better die rather than resort to alcohol in any manner," adds another autographed letter.
The series of letters is part of Mullock's Historical Documents Sale at Ludlow Racecourse on May 22.
It also includes another set of 27 autographed letters to Vijaya Lakshmi Pandit - sister of India's first prime minister Jawaharlal Nehru - some of which were written by Mr Gandhi from prison.
"Women have done more work than us. Even so much remains to be done. The modern world has as yet seen the like of India's woman power. I am convinced they will go much further ahead and I will be very surprised if you do not play a very big part in this," reads a letter dated November 11, 1930.
The earliest letters date back to 1920, but others are from the 1930s and the majority dating from the crucial period of 1938-1944 in the Indian national movement.
They are also mostly written in Gujarati with a few in English.
"In remarkably good condition in spite of the fact that Gandhi tended to use the cheapest paper and materials for his correspondence, we believe that these letters have never before been seen publicly and therefore they provide a highly important primary source of information on Gandhi and the struggle for Indian independence," the auction house said of this lot, which is expected to fetch between 60,000 pounds and 80,000 pounds.
Some of the other Gandhi-related material to go under the hammer includes portraits, signed postcards and a wooden 'charkha' expected to fetch as much as 80,000 pounds.