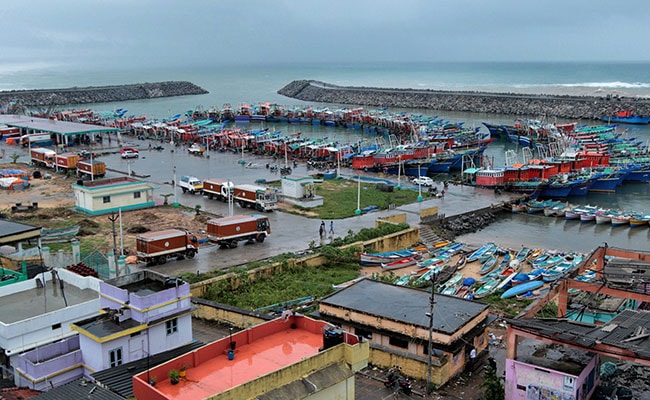 Highlights
Cyclone Ockhi expected to make landfall within the next 48 hours
Its forecast has been reduced from 'very severe' to 'severe' for Monday
The cyclone has claimed 13 lives and 115 people are still missing
New Delhi:
The Cyclone Ockhi, which has lost some of its intensity, is expected to make landfall on the coast of Maharashtra within the next 48 hours. The scale of cyclone forecast has been reduced from 'very severe' to 'severe' for today. The search and rescue operations in Kerala and Tamil Nadu, which bore the brunt of the winds and rain over the weekend, still continue. The alert on the coastline is still on and fishermen in north Tamil Nadu and South Andhra coast have been asked not to venture out to the Arabian sea for the next 48 hours.
Here are the latest developments:
Alert has been issued for fishermen in Maharashtra and Gujarat. The condition of the sea along north Maharashtra and South Gujarat coasts will be very rough on the Monday and Tuesday, the met office has said.

Over the next 24 hours, moderate rain is expected at a few places in Tamil Nadu and Pondicherry.

The cyclone has claimed 13 lives and 115 people are still missing. Around a thousand people have been stranded in rescue centres.

Kerala Chief Minister Pinarayi Vijayan said 395 fishermen have been saved in a biggest-ever joint rescue operation by the Coast Guard, Air Force, and the Navy. The total number of rescued fishermen so far is 475.

In Tamil Nadu's Kanyakumari, families of fishermen hit the streets in protest, demanding that searches be intensified for those who are still missing. Till Sunday afternoon, 101 fishermen remained missing in Tamil Nadu.

Dr K Satyagopal, Relief said, 150 fishermen from Tamil Nadu and Kerala have been sighted in Lakshadeep. We are awaiting names and other details so we could reconcile".

In Nagercoil, the locals held protests, alleging that the officials had made no arrangements for basic needs like drinking water, milk for children and power supply.

The cyclone, which has caused widespread damage in Kerala's Thiruvananthapuram and Kollam districts, will not be termed a national disaster, Minister of State for Tourism KJ Alphons said on Sunday. Mr Vijayan has appealed to the central government to declare cyclone Ockhi as a 'national calamity'.

Water logging and power cuts brought the cyclone-hit areas of Kerala to a standstill. It has caused damage to property and blocked highways across several districts, affecting transport and communication services.

Originating near Sri Lanka over the Bay of Bengal, on Cyclone Ockhi moved over the Arabian Sea via Comorin, triggering heavy rains and high speed wind. The storm has been named by Bangladesh after the Bengali word for "eye".