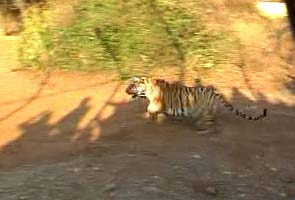 Mumbai:
In a landmark decision, the Maharashtra government has announced that tiger poaching cases will be investigated by the Central Bureau of Investigation (CBI).
Speaking at a function on World Wildlife Day, Chief Minister Prithviraj said, "It has been revealed that two people who were caught in the recent poaching case in Nagpur had received $10,000 from Tibet. A CBI investigation will expose poaching rackets that stretches across the nation internationally too."
Wildlife activists have welcomed the move. Anish Andheria, President of Wildlife Conservation Trust told NDTV, "It's a very futuristic decision and it's a welcome step. It will have a long lasting impact on the poaching mafia that is active in the central Indian landscape encompassing four to five states like Maharashtra, Madhya Pradesh, Chhattisgarh, Orissa and Rajasthan."
"The recent spate of poaching in Maharashtra and Madhya Pradesh has links with traders in Haryana and Delhi and a national level investigation will help break the nexus between the traders and local poachers who sell tiger parts to buyers in Nepal and China," Mr Andheria added.
Maharashtra has one of the largest tiger populations in the country. Poaching has been a worry for wildlife officials in areas like Chandrapur and Nagpur. Experts feel the CBI will be able to overcome challenges that local police face while investigating poaching cases.
According to the Wildlife Protection Society of India there have been 54 tiger deaths this year. Of these 25 were due to poaching and seizures. In such a scenario, this step is being welcomed by tiger conservationists.