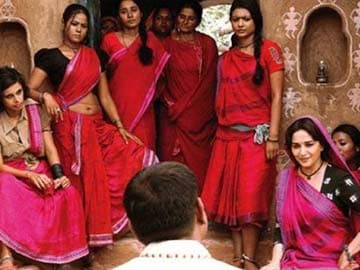 New Delhi:
Actresses Madhuri Dixit and Juhi Chawla's film
Gulaab Gang
has run into trouble just days before its release. The Delhi High Court has ruled that the movie will not be released anywhere in India in its censored or uncensored version till May 8.
Gulaab Gang
was meant to release this Friday, March 7.
Activist Sampat Pal, the leader of the real-life Gulabi Gang - a group of pink sari clad women vigilantes from Uttar Pradesh - on which the film is based, moved the Delhi High Court today to block the release of the film.
Sampat Pal moved the high court seeking a restraining order on the release of
Gulaab Gang
, saying the filmmakers did not ask her permission before making the movie.
She also sought financial compensation, saying there are certain scenes in movie which will affect her reputation.
The court agreed that the film promos, shown in January 2014, depicted Ms Pal "in the negative light and gave her a fresh cause of action".
"Reputation once lost is lost forever and can not come back and even can't be compensated with monetary terms," the court said.
The producers of
Gulaab Gang
argued that Sampat Pal's intention from the start was to derail the film's release at the last moment as she took no action between the sending of a cease and desist notice in June 2013 to the filing of the plea to stay the release now.
The producers offered to run a disclaimer at the start of the film specifying that the incidents depicted in it are not related to Ms Pal.
The court rejected the offer but did question Ms Pal about the delay in filing the plea, asking:"Why you approached the court last minute when movie is going to release? Why didn't you come earlier?"
Sampat Pal was present in court, dressed in the pink saree that has come to symbolise her group. Gulabi Gang is actively involved in fighting social injustices against women, at times, adopting unconventional means.
Gulaab Gang
is directed by debutant Soumik Sen and produced by Anubhav Sinha.