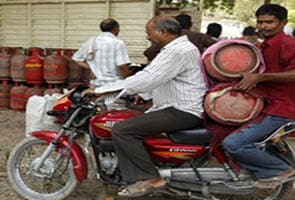 New Delhi:
The price of cooking gas (LPG) has been hiked by Rs 11.42 per cylinder, following the government's decision to raise the commission paid to the dealers. The hike comes within weeks of the government deciding to restrict supply of subsidised cooking gas to six cylinders per household in a year.
The Oil Ministry had yesterday issued orders raising commission paid to LPG dealers from Rs. 25.83 per 14.2-kg cylinder to Rs. 37.25, government officials said.
For the consumer, subsidised LPG in Delhi will now cost Rs. 410.42 per cylinder, up from Rs. 399. Officials said the commission paid on market price or non-subsidised LPG too has been raised by Rs. 12.17 to Rs. 38 per cylinder. Accordingly, a non-subsidised LPG cylinder price will go up from Rs. 883.5 to Rs. 921.5.
Petrol and diesel prices too may go up marginally as the Oil Ministry considers raising dealers' commission by at least 23 paise and 10 paise a litre respectively.
Viewing the rise in prices including that of LPG as "anti-women", BJP's Smriti Irani said the party will hold a nation-wide protest on October 12 during which the party will also raise the issue of scams that have hit the government.
Ms Irani, who is BJP Mahila Morcha President, said the decision was taken at the BJP National Council meeting to protest against the "anti-women" steps taken by the government.
"It was decided at the BJP National Council that Mahila Morcha wing of the party will protest against this anti-women policy of Congress-led UPA. Hence, on October 12, the anniversary of our leader Vijayaraje Scindia, Mahila morcha will organise protests all over the country," Ms Irani said.