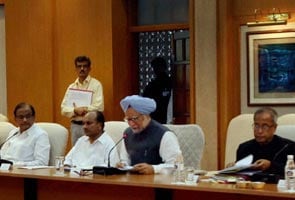 New Delhi:
After meeting for a whopping three hours, leaders of all major political parties have together appealed to Anna Hazare to end his hunger strike against corruption. A formal resolution also suggested that "due consideration should be given to the Jan Lokpal Bill," which is the version of the anti-corruption bill drafted by Anna and his associates. (
Read: All-party resolution
)
Opposition leaders reportedly agreed with the government that parliamentary processes cannot be violated, messaging to Anna and his associates that some of their demands may not be acceptable. So the activists' insistence on their bill bypassing a parliamentary committee and being placed directly for debate in Parliament is unlikely to succeed. A third round of talks will take place later tonight between senior ministers and Anna's representatives.
A little before the all-party meeting ended, Anna vowed he will not stop fasting. He has not eaten for nine days. The 74-year-old activist took the stage at his camp at Ramlila Maidan, where even on a weekday, 15,000 people were waiting to hear him. "I am not weak," he declared, "I can go another nine days (without food)." Sources say the government is preparing an emergency plan to move Anna to hospital; the doctors attending to the activist have been consulted, they will indicate if and when Anna should be air-lifted to hospital. (
Read: Government evaluates plans to move Anna to hospital
)
It is, the frail condition of the Gandhian is what is bearing down on the government as it hunts desperately for a compromise with Anna and his associates on the Lokpal Bill, meant to combat corruption among public servants through a new independent agency. (
Read: Who is Anna Hazare?
)
After wide criticism of its vertiginous handling of Anna, the government is anxious to end its isolation. The Prime Minister told opposition leaders he seeks "their guidance on the way forward." The agenda of the all-party meeting this evening was to evaluate the legislative options available on how to treat Anna's version of the Lokpal Bill, given that the government's version has already been introduced in Parliament.
Briefing Opposition leaders on Team Anna's demands, Dr Manhoman Singh said, "Broadly their position is that (a) the Government should withdraw the Bill introduced in Parliament (b) the Jan Lokpal Bill should be introduced with some changes in Parliament within four days and (c) this Bill should be discussed and passed during this session of Parliament by extending it if necessary...If a written commitment can be given with timelines, then the representatives said they can hopefully persuade Annaji to stop his fast."
(Read: PM's opening remarks on all party meet)
The deadlines set by Team Anna have stumped the government and the Opposition, who agree that the Lokpal Bill is too important to be pushed through without due consideration and debate. This Parliament session ends on September 8. BJP leader Arun Jaitley said before heading to the PM's meeting that it's not the deadline but the content of the Bill that must be a priority.
Separately, the government stressed that Anna's Lokpal Bill has been sent for scrutiny to the parliamentary committee that has received the government's version.
The Lokpal Bill provides for the creation of an anti-corruption agency that will be empowered to handle cases of official graft. Team Anna and the government had both prepared vastly disparate versions of the bill. They're now hammering out a compromise, point by point. Most differences have been resolved. The government, for example, has accepted that corruption charges against the Prime Minister can be investigated while he or she is still in office. Two sticking points prevent a truce. Anna believes that all bureaucrats must be covered by the Lokpal or ombudsman committee. The government says this is not possible, because it would mean providing 20,000 officers to the Lokpal to investigate junior bureaucrats. Team Anna also wants the Lokpal Act to apply not just at the centre, but in states as well. The government, however, wants states to develop their own versions of the bill.
Spiritual guru Sri Sri Ravi Shankar, who is a key mediator, said a solution may be delivered tonight. He said that "Both sides are being flexible. I think there will be good news soon."
(Team Anna vs Govt: Areas of dispute, negotiation)
The Prime Minister wrote to Anna last evening, expressing concern over the activist's frail health, and offering that Anna's Lokpal Bill could be studied by the Parliamentary Standing Committee that already has the government's draft. However, Team Anna wants their Lokpal Bill to be debated directly by Parliament, which would entail bypassing any deliberations at the committee level.