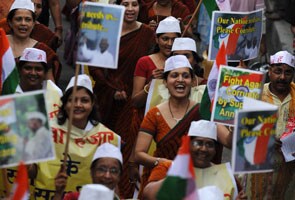 New Delhi:
Bypassing his associates, the government this afternoon contacted anti-corruption campaigner Anna Hazare directly.
Union Minister Vilasrao Deshmukh, who is from Anna's home state of Maharashtra, met the 74-year-old activist at his protest camp at Ramlila Maidan. In a meeting that lasted about 20 minutes, Mr Deshmukh reportedly conveyed a message from the Prime Minister to Anna.
Anna has been fasting for ten days and doctors are worried about his health. The government wants Anna to consider ending his fast and continue with his protest, if he so desires.
Mr Deshmukh said he urged Anna to end his fast. Sources say he also asked Anna to consider the offer extended by the Prime Minister in parliament earlier today.
Anna has vowed not to end his fast till his activists' Jan Lokpal Bill is discussed in Parliament. The PM said that all existing versions of the Bill including the government's can be debated by the House; the best points of each can then be sent to a committee for detailed analysis and feedback.
Mr Deshmukh reportedly told Anna that a debate in parliament on the points of dispute could be initiated immediately.
The Lokpal is a new agency that will be empowered to fight corruption among public servants. How it should be selected and who it should apply to are among the points of dispute between Team Anna and the government. However, a compromise has been reached on all but two points. The government has still not agreed to the activists' demand that the Lokpal should be allowed to investigate junior bureaucrats; it has also refused to create a parallel Lokpal in each state.
Get Breaking news, live coverage, and Latest News from India and around the world on NDTV.com. Catch all the Live TV action on NDTV 24x7 and NDTV India. Like us on Facebook or follow us on Twitter and Instagram for latest news and live news updates.