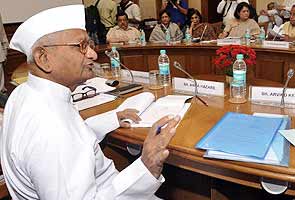 New Delhi:
The much-awaited Lokpal Bill, intended as the antidote to systemic corruption, was cleared by the cabinet on Thursday. It will now be presented in the Rajya Sabha. Once it is cleared there, it will move to the Lok Sabha.
The Lokpal Bill was championed by anti-graft crusader Anna Hazare. Thursday's proposal includes several amendments to an earlier version cleared by the Lok Sabha, and has been rejected by Anna for being toothless.
(Read)
When the legislation is passed, it will birth a new national ombudsman empowered to investigate allegations of corruption against government servants.
The new Lokpal Bill gives state governments one year to pass legislation that creates a Lokayukta or the state version of the ombudsman. The earlier version created Lokayuktas for states, seen as a violation of the states' autonomy by many opposition parties.
The bill was passed by the Lok Sabha in December 2011 after a lengthy hunger strike by Anna who refused to end his fast till the government agreed to urgently debate the legislation. But in the Rajya Sabha, a few days later, the session ended without a vote. The opposition alleged that the government had orchestrated scenes of chaos and cacophony in the Rajya Sabha to prevent a vote because it did not have the numbers to get the Lokpal Bill passed.
In May, the bill was referred to parliamentary committee of the Rajya Sabha, which presented 16 amendments.Of these,14 have been accepted by the government today.
HERE ARE THE HIGHLIGHTS OF THE NEW BILL:

The Lokpal will have nine members. They will be chosen by a committee of the Prime Minister, Speaker, Chief Justice of India, the Leader of the Opposition and an eminent jurist.
The bill creates a prosecution wing of the CBI; this branch will handle the Lokpal's investigations.
The head of the CBI will be picked by the PM, the Chief Justice of India and the leader of the Opposition.
Which amendments has government rejected?
The parliamentary committee wanted the Lokpal to sign off on the transfers of CBI officers handling its cases. But the government says this will undermine the CBI's autonomy.
The government has also over-ruled the committee by deciding that a public servant accused of corruption must get a hearing before an investigation against him or her is sanctioned. The
opposition BJP says this ruins "the element of surprise" because the officer will have enough time to destroy evidence, if needed.
(Read)
"Have you ever seen that before filing an FIR the accused is given a notice asking if an FIR can be filed against him? Have you heard of any anti-corruption agency in this world who can't investigate?," said anti-corruption activist-turned-politician Arvind Kejriwal.
Who is exempt and who isn't:
Religious institutions, charitable institutions who are aided by government and get free or subsidized land, political parties. NGOs will be covered by the Lokpal.