New Delhi:
Incidents of violence in West Bengal headlined the second phase of polling in Lok Sabha elections that also witnessed reports of glitches in Electronic Voting Machines or EVMs in five states. West Bengal along with Assam and Manipur witnessed huge voter turnout in the second phase of polling with over 70 per cent electorates in all three states exercising their franchise till 5 pm. Voting in Bihar, Maharashtra, Jammu and Kashmir and Karnataka has been largely weak. Voting has now picked up in Odisha where 64 per cent of the state's electorate have exercised their franchise till 5 pm.
Reports of EVM glitches in five states, violence in West Bengal marred the second phase of polling of the Lok Sabha elections. In Bengal, stones were thrown at the car of CPM candidate Mohammad Salim, as he was on his way to cast vote in Patagora of Raigunj constituency. Mr Salim is up against the Congress's sitting lawmaker Deepa Dasmunsi. Violence was also reported near a booth in the Girpar in the same constituency, where voters blocked the National Highway 34, claiming that unknown miscreants did not allow them to vote, pushing the police to use batons.
Tamil Nadu witnessed impressive turnout in the morning with Tamil superstar Rajinikanth, senior Congress leader P Chidambaram exercise their franchise in the phase 2 of the Lok Sabha elections.
Ninety five seats spread across 11 states and one union territory are voting in the second phase of lok sabha elections today. The second phase of the gigantic Lok Sabha elections will cover Assam, Bihar, Jammu and Kashmir, Karnataka, Maharashtra, Manipur, Odisha, Tamil Nadu, Uttar Pradesh, Bengal, Chhattisgarh and Union Territory Puducherry. Former Prime Minister HD Deve Gowda, Senior Congress leader Veerappa Moily, BJP lawmaker Hema Malini and National Conference President Farooq Abdullah are among the prominent candidates contesting in the phase 2 elections.
Polling are being held on 38 Lok Sabha and 18 assembly seats of Tamil Nadu today, though voting in the Vellore seat has been cancelled following huge seizure of cash by Income Tax officials.
In Uttar Pradesh, which sends the maximum number of parliamentarians to the lok sabha, the BJP is up against the SP-BSP alliance in eight seats in western part of the state that go to polls in the second phase.
Meanwhile, campaigning is taking place for the third phase of the Lok Sabha elections. The Congress leader visited Gujarat today and address two rallies in Junagadh and Kachchh.
The voting time for Phase 2 elections were held from 7 AM to 6 PM. The Lok Sabha election result will be declared on May 23.
Here are the Highlights on Lok Sabha Elections Phase 2 voting:
Phase 2 polling: Fatehpur Sikri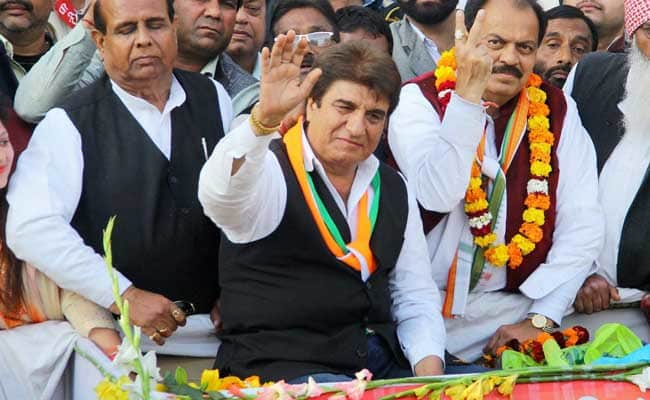 Uttar Pradesh's Fatehpur Sikri is witnessing a triangular battle between Congress's Raj Babbar, BJP's Rajkumar Chahar and BSP's Shreebhagwan Sharma, who is a two-time MLA from Debai assembly constituency of Bulandshahr.
Farmers crisis have dominated the issues during the campaigning in the constituency.
The Congress has pinned its hopes on its state chief Raj Babbar, shifting the actor-turned-politician from Moradabad after he was said to be not keen on contesting from the seat. He had unsuccessfully contested from Fatehpur Sikri in 2009. The BJP has fielded a Jat leader and farmer's son, Rajkumar Chahar, denying ticket to its sitting MP Chaudhary Babulal and the BSP has picked in Shreebhagwan Sharma, also known as Guddu Pandit.
Around 17 lakh voters are eligible to cast their vote in Fatehpur Sikri. The region is dominated by Thakur and Brahmin voters, and Jats, Scheduled Castes, Kushwahas and Muslims are also in significant numbers.
In 2014, BJP's Babulal had polled over 4.26 lakh votes, 44 per cent of all votes cast that year. BSP's Seema Upadhyay had come second with 2.53 lakh votes, while Samajwadi Party's Rani Pakshalika Singh had got over 2.13 lakh votes. Mr Babbar had moved to Ghaziabad in 2014 general election and lost to BJP's V K Singh.