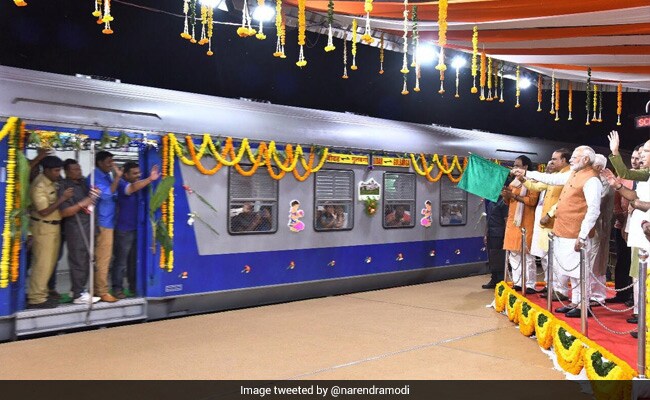 Bengaluru:
Prime Minister Narendra Modi, who is in Karnataka today, offered prayers at the famous Lord Manjunatha Swami temple at Dharmasthala. He then attended a function organised by the Sri Kshetra Dharmasthala Rural development Project in the temple town in Dakshina Kannada district. The prime minister symbolically launched the distribution of RuPay Cards for self-help group members who enrolled for Pradhan Mantri Jan Dhan Yojana through the Sri Kshetra Dharmasthala Rural development Project, a non-governmental organisation, during the programme. PM Modi symbolically transfered RuPay cards to women who would then conduct banking transactions in the MICRO ATMs placed on the dais during the programme. He then traveled to the state capital Bengaluru to attend a public function organised by the Vedanta Bharati at the Palace Grounds. He will also inaugurate the 110 km Bidar-Kalaburgi railway track in the Hyderabad-Karnataka region that will reduce the distance between Bengaluru and New Delhi by 380km and travel time by six to eight hours.
Here are the highlights of Prime Minister Narendra Modi's visit to Karnataka:
PM Modi said this was not the case with his government that was committed to devote every rupee and every resource for the welfare of Indians so that fruits of development reached the beneficiaries without any scope of corruption. PM Modi said cash currency had always been changing from stone coins, rubber coins, gold and silver coins in the economic history of the world and now it was the time for digital currency in the world. "India cannot lag behind."