Highlights
Linking of existing Aadhaar with PAN mandatory
More than 2 crore taxpayers have linked Aadhaar with PAN
There are over 25 crore PAN card holders in the country
The Income Tax Department has urged assessees to link their Aadhaar number with PAN or Permanent Account Number. The taxman has not only simplified the process for Aadhaar-PAN linkage but also provided multiple facilities to do this. In Budget 2017, the government mandated seeding of Aadhaar with Permanent Account Number to avoid individuals using multiple PANs to evade taxes. From July 1, linking of existing Aadhaar numbers with taxpayers' PAN will be mandatory. The new rules will come into force from July 1, 2017, the Department of Revenue has said.
The Income Tax Department has
introduced
a one-page form for taxpayers to manually apply for linking their Aadhaar with Permanent Account Number (PAN), apart from the available online and SMS facilities.
The government has made quoting of Aadhaar or enrolment ID a must at the time of application of PAN. Through an amendment to tax proposals in the Finance Bill for 2017-18, Finance Minister Arun Jaitley has made the 12-digit biometric identity system Aadhaar mandatory for filing ITRs and provided for linking of PAN with Aadhaar to check tax evasion through use of multiple PAN cards.
"Every person who has been allotted PAN as on July 1, 2017, and who in accordance with the prof sub-section (2) of section 139AA is required to intimate his Aadhaar number, shall intimate his Aadhaar number to the principal director general of income tax (systems) or DGIT (systems)," according to the revenue department.
As many as 2.07 crore taxpayers have already linked their Aadhaar with PAN. There are over 25 crore PAN card holders in the country while Aadhaar has been issued to 111 crore people.
Here's how to link Aadhaar with PAN through various channels:
How to do Aadhaar-PAN linking via SMS
For all assessees whose name given in the Aadhaar card and PAN card are identical, a simple SMS-based facility is provided to achieve the linking. Such assessees need to send an SMS to 567678 or 56161 in the following format:
UIDPAN<SPACE><12-digit Aadhaar><Space><10-digit PAN>
For example: UIDPAN 111122223333 AAAPA9999Q
However, in case of assessees whose names given in the Aadhaar and PAN cards have a "minor mismatch", according to the Income Tax Department, the linking can be achieved using an online facility.
A facility available on the Income Tax Department's e-filing website enables assessees with identical names given on Aadhaar and PAN as well as those with a minor mismatch to link the two identities.
The taxman has given steps to carry out this task through the portal: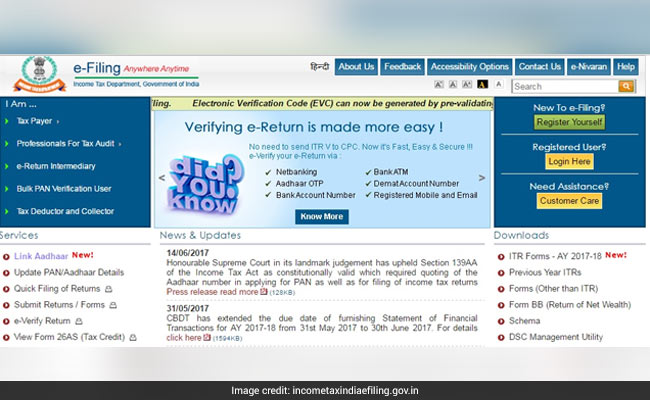 Once on the income tax e-filing website - incometaxIndiaefiling.gov.in, click on the 'Link Aadhaar' option on the left hand side.
Enter your PAN, Aadhaar and name given on the Aadhaar Card. The name detail to be filled in this step is case sensitive.
Click on 'Link Aadhaar' button to proceed.
An OTP or one-time-password will be sent to the mobile number registered with Aadhaar.

Don't have PAN card?

Aadhaar can also be seeded into PAN database by quoting Aadhaar in PAN application form - for allotment of a new PAN or for reprint of PAN card, according to the taxman.

"In case where Aadhaar name is completely different from name in PAN database then the linkage may fall and the PAN holder has to change the name in either Aadhaar or in PAN database or visit personally to designated PAN application centre of NSDL eGov or UTIITSL for Biometric Aadhaar authentication," the Income Tax Department said on microblogging site Twitter.
Get Breaking news, live coverage, and Latest News from India and around the world on NDTV.com. Catch all the Live TV action on NDTV 24x7 and NDTV India. Like us on Facebook or follow us on Twitter and Instagram for latest news and live news updates.