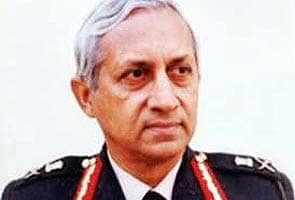 London:
Lieutenant General Kuldeep Singh Brar, who led Operation Blue Star against Sikh militants holed up inside the Golden Temple in 1984, has been stabbed and injured in London.
The Indian High Commission has confirmed that three men assaulted General Brar, 78, outside his hotel and stabbed him with a knife. He has been operated upon now and is now recovering at home. Sources say that Gen Brar is returning home to India on Tuesday.
General Brar's wife was with him; she was pushed to the ground but was not injured. She told NDTV, "We were walking down Oxford Circus at 10.30 pm in the night. Three bearded men attacked him and tried to slash his throat. We cannot say if they were Sikh. I was standing by watching and called for help. The ambulance was there within minutes and we rushed him to hospital."
The retired army officer remains on the hit-list of many Sikh militant groups and usually stays in a high-security compound in the cantonment area in Mumbai. He is a Z-category protectee. In New York, External Affairs Minister SM Krishna said that the general should have informed the Indian High Commission so that security could have organised for him. General Brar was in London on a private visit.
General Brar is a decorated soldier who saw action in the 1971 war with Pakistan. He was among the first to enter Dhaka to force the Pakistani army into surrender.
On June 5, 1984, troops including many Sikh soldiers entered the Golden Temple premises in Amritsar to flush out militants led by Jarnail Singh Bhindrawale demanding a separate state for Sikhs called Khalistan. Several soldiers were killed in firing by the terrorists. But General Brar's troops were successful and Bhindranwale was killed.
Operation Blue Star upset many Sikhs. The then Prime Minister Indira Gandhi was assassinated by her two Sikh bodyguards a few months after Operation Blue Star. This was followed by several years of terrorism that affected Punjab.
In the 1990s, General Brar wrote a book called
Operation Blue Star: The True Story.