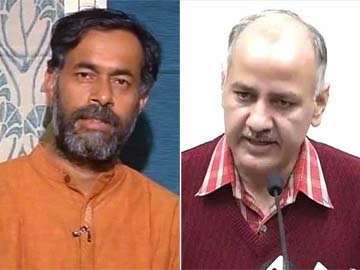 New Delhi:
Differences in the top rung of the Aam Aadmi Party have come to the fore with senior leader Manish Sisodia accusing Yogendra Yadav of targeting party chief Arvind Kejriwal and making internal matters public. (
Also Read: No Truce Between Arvind Kejriwal, Nitin Gadkari
)
In a letter written in response to an email sent by Mr Yadav to AAP leaders which has since become public, Mr Sisodia said, "Your (Yadav) broad allegations are Arvind (Kejriwal) does not listen to the suggestions of the PAC (Political Affairs Committee). I am surprised reading your email because till the time Arvind agreed with you, he was democratic." (
AAP's Yogendra Yadav Offers to Resign From Key Post
)
In his e-mail, Mr Yadav had claimed, "Arvind is turning into a personality cult that can damage an organisation and the leader himself".
He had also alleged that the party was suffering from a serious deficit in policy thinking.
The national executive of the AAP is scheduled to hold a meeting later today at the residence of senior leader Prashant Bhushan.
The AAP has suffered a series of setbacks in the last few months, including a lacklustre showing in the Lok Sabha polls and a spate of senior leaders resigning from the party. (
Arvind Kejriwal Announces Rehaul of AAP at Ground Level
)
Both Captain Gopinath and Shazia Ilmi had resigned from AAP on May 24; Ms Ilmi had stated that she was leaving the party after "fighting like an obedient soldier for four years" due to the lack of inner-party democracy. (
Double Blow to AAP, Shazia Ilmi and Captain Gopinath Quit Party
)
Mr Yadav had, on June 1, offered to tender his resignation from the AAP's Political Affairs Committee. He had contested the recent Lok Sabha elections as the party's candidate from Gurgaon in Haryana and lost his security deposit.
Anjali Damania, the AAP's convener in Maharashtra, had also tendered her resignation yesterday. But the anti-corruption campaigner, who refused to reveal the reason behind her decision to leave the party, withdrew her resignation later in the day. (
Anjali Damania Withdraws Resignation from AAP
)