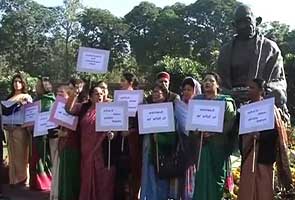 New Delhi:
Leaders of the BJP protested outside Parliament this morning demanding better safety for women in the capital. Yesterday, leaders from different parties took on the government in both Houses of Parliament over the grotesquerie on Sunday night in which a medical student was gang-raped and then beaten with an iron rod in a bus in South Delhi for nearly an hour.
The case has outraged India and united leaders of different parties in demanding a fast-track trial and better security for women.
Senior BJP leader Sushma Swaraj reiterated her demand this morning for the death sentence for rapists. "This case should be held in fast track court and come to decision to hang the guilty in 30 days," she said.
Last night, Congress president Sonia Gandhi wrote to the country's Home Minister and Delhi Chief Minister Sheila Dikshit, demanding better protection for women in the capital. (Read:
Sonia Gandhi's firm letter to Home Minister
|
Sheila Dikshit, chief minister
)
"Sonia Gandhi should not demand action, her job is to act," Ms Swaraj retorted today.
In her letter to Home Minister Sushil Kumar Shinde, Mrs Gandhi wrote, "It's a shame for all of us who are responsible for security of our cities. This monstrous crime deserves not only universal condemnation but also the government's most urgent attention. It is imperative that the police and other agencies concerned are sensitise to the danger our daughters, sisters, mothers face every day."
In parliament yesterday, Mr Shinde announced that a special committee has been set up to evaluate how to improve safety for women in Delhi. He also said that the government will seek daily hearings for a fast-track trial for the six men accused of the gang-rape on the privately-operated bus. Four men were arrested yesterday.