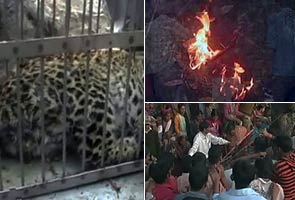 Dehra Dun:
In a shocking incident, villagers in Uttarakhand burned alive a leopard as forest officials watched.
The leopard, who villagers say injured 10 people, was first captured and locked up in a cowshed.
It was beaten up there and after that it was locked in a cage. Kerosene was poured upon the animal and it was set on fire.
The creature could not escape and people just watched the brutal killing of it.
Among the onlookers were several forest officials who did nothing to save the animal.