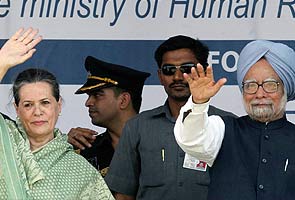 Narayanpur:
UPA chairperson Sonia Gandhi today said a law will be passed soon to prevent crime against women in the country.
Sonia Gandhi, who was speaking after the foundation stone laying ceremony of Ghani Khan Choudhury Institute of Engineering and Technology in Narayanpur in the presence of Prime Minister Manmohan Singh, said the UPA government had taken various steps for the cause of women and establishing their rights.
"To stop crime against women, a law will soon be passed," she said.
She noted that the "UPA government has taken several steps for the betterment of women and to make them self-dependent. With a fund of around Rs 1000 crores, we are planning to set up a Women Bank, which will be run by women and help women in their business ventures.
"We are also constituting a fund with Rs 1000 crore. This fund will be used to protect the honour and dignity of our mothers and sisters," she said.
Sonia Gandhi's remarks come against the backdrop of the Union Cabinet clearing a bill on Thursday providing for stringent punishment for rape, acid attack, stalking and voyeurism besides reducing the age of consent for sex to 16 years.
The bill, brought against the backdrop of the December 16 Delhi gang-rape, provides for minimum jail term of 20 years for rape which may be extended to 'natural life' of the convict in jail or even death if the victim dies or is left in a 'persistent vegetative state'
Referring to the proposed Food Security Bill, Sonia Gandhi said UPA was looking into passing it. "We are trying to pass the Food security bill so that poor people of this country don't have to starve.
"Education is also an important sector in the growth of the nation. Our UPA government under the Manmohan Singh has given special attention to technical education and education.
We have also taken measures to provide proper education to kids of rural India," said Sonia Gandhi.
Steps have also been taken for the development of minorities, she added.