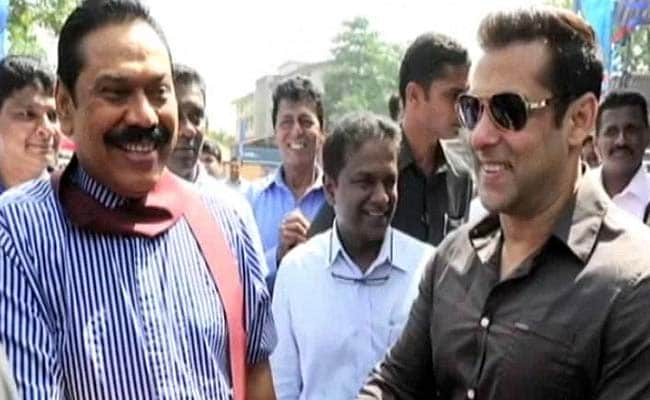 Colombo:
Sri Lankan actor-turned politician Ranjan Ramanayake today asked Bollywood star Salman Khan to stay away from the country's politics, a day after he campaigned for the incumbent President Rajapaksa.
The Sri Lankan movie idol, who is also an opposition parliamentarian, advised the Indian actor not to "sell" himself to "the corrupt politicians" and appealed him to go back to India.
"You are very popular in Sri Lanka and I am a fan of you. I am telling you please do not sell yourself to corrupt politicians. Please go back to India", Ramanayake said on Youtube.
Salman Khan was yesterday in Sri Lanka to prop up the incumbent Mahinda Rajapaksa's re-election bid, the first Indian actor to be roped in for a poll campaign in the country.
Khan was quoted as describing Rajapaksa as "an amazing man" after associating with Rajapaksa's election platform.
The opposition, led by Maithripala Sirisena, claimed that Khan's visit to Colombo coincided with an attack against local artistes by a group of Rajapaksa supporters.
Young artistes campaigning for the opposition was set upon by a gang at Kurunegala in the rural north western province.
Beset by mass defections from his ruling coalition to the opposition challenger Maithripala Sirisena, Rajapaksa is believed to have suffered a loss of popular support. The Bollywood stars are expected to boost the sagging morale of the incumbent's campaign.
The Presidential election will take place on January 8, as Rajapaksa called the election two years ahead of schedule in an apparent attempt to seek fresh mandate before his party's popularity tumbles further, after dropping over 21 per cent in September local elections.