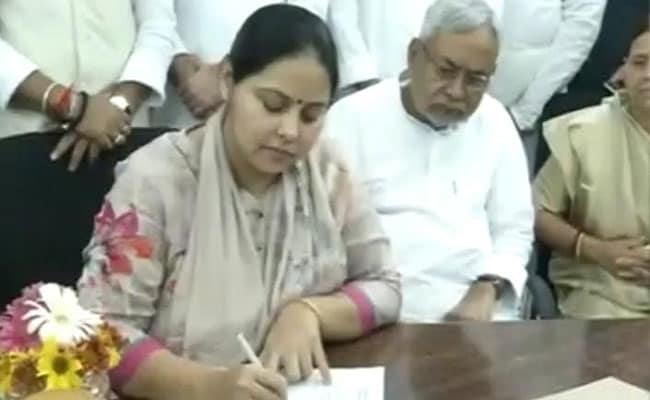 Highlights
Enforcement Directorate arrests Rajesh Aggarwal for helping launder money
Two brothers SK Jain and V Jain were arrested in this case in March
ED says Lalu Yadav's daughter Misa Bharti is one of Mr Aggarwal's clients
NEW DELHI:
A chartered accountant allegedly linked to RJD chief Lalu Yadav's daughter Misa Bharti has been arrested in a money laundering case by the Enforcement Directorate late on Monday. Officials said the arrest was made in context of Mr Rajesh Aggarwal's alleged role in an 8,000 crore money laundering case being probed by the central government's financial crimes team, not his dealings with Misa Bharti, a Rajya Sabha member.
In this case, the directorate had recently filed charges against Surendra Kumar Jain and Virendra Jain, two entry operators who have been accused of creating shell companies, firms that do not really carry any legitimate business activity but exist on paper to whitewash black money. The Jain brothers were arrested in March.
Mr Aggarwal's arrest is the closest that the Enforcement Directoate has come to the Lalu Yadav household.
Last week, income tax officers
had raided nearly 20 premises looking for evidence about Lalu and his family's proxy land deals to the tune of 1,000 crores.
Officials believe Misa Bharti was one of the many high-profile people who used chartered accountant Rajesh Aggarwal to launder money. "He would obviously be questioned about all deals that he has facilitated during his questioning," a government official said.
Sushil Kumar Modi, Bihar's senior BJP leader who has been accusing the Rashtriya Janata Dal chief and his family of corrupt deals told NDTV that there was a link between the Jain brothers, Mr Aggarwal and Lalu's daughter.
It was Mr Modi, who this month, accused Misa Bharti of laundering money through a shell company to
buy a farmhouse at Delhi's Bijwasan
area at a throwaway price in 2008-09 when her father was a union minister.
According to the BJP leader,
she sold her company's shares of face value of Rs 10 each to Virendra Jain's Shalini Holdings at Rs. 100 per share in October 2008, which fetched her Rs 1.20 crore. Eleven months later, Misa purchased all the shares at the rate of Rs 10 per share from Virendra Jain. Later, she also bought a farmhouse in south Delhi for Rs 1.41 crore.
The Modi government had last year ordered a crackdown on shell companies and the professionals such as lawyers and chartered accountants who help clients launder money. Over the last three years, the government has detected about 1,200 shell companies that had been used as conduits by over 22,000 beneficiaries to launder over 13,000 crores. As a follow-up, the enforcement Directorate had carried out searches across 100 locations to unearth 300 such companies.