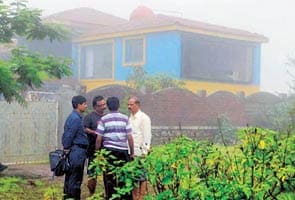 Nashik:
A team of officials from the Mumbai Police crime branch has reportedly found human remains at Bollywood starlet Laila Khan's Igatpuri farmhouse, where she was allegedly killed along with her relatives. The remains will now be sent for analysis to ascertain identity, say sources.
Around 1000 policemen had launched the search after main accused Parvez Tak told the Jammu and Kashmir Police that the actor and her five relatives were murdered and their bodies were buried around her farm house in Untdari behind Ghatan Devi. Tak had reportedly told the Jammu Police that Laila, who had been missing for 11 months, was murdered along with her mother, Celina, her two siblings and two half-sisters.
During interrogation, he reportedly revealed that they were shot dead near Mumbai by three men who included Celina's second husband, Asif Sheikh, and a man named Afghan Khan, who was allegedly Laila's lover. Tak, who is Celina's third and current husband, was the other man involved in the murders, he confessed, according to sources.
Tak was brought to Mumbai from Jammu on Sunday night by the Crime Branch of the Mumbai Police for questioning in connection with the case.
The Mumbai Crime Branch had begun investigations immediately after taking custody of Tak. A team of officers reached Laila's farmhouse in Igatpuri early on Monday morning. During the search at the farmhouse, four kilometers of the area around was cordoned-off and barricades put up.
Crime Branch officials have also detained Jolly Guilder and Mehboob, who Tak had hired to drive the Mitsubishi Outlander from Igatpuri to Indore and onward to Delhi, and finally to Kishtwar.
Laila lived in a suburban Mumbai flat with her mother, three siblings, and another relative. They disappeared from their flat on February 7, 2011. The Mumbai police say they were taken by her stepfather, Parvez Tak, to the farmhouse in the Nashik district. This was the last location traced through Laila's cellphone records. A few days later, the farmhouse was set on fire.
The motive for the murder was allegedly the property owned by Laila and her mother. They owned two flats in Mumbai, and Celina's second husband and Laila's boyfriend wanted to stop her from selling these apartments.
Laila was last seen in a movie 'Wafaa' with actor Rajesh Khanna in 2008.