Highlights
Jadhav, accused by Pak of spying, was sentenced to death in April
Pak packages meeting as a public relations exercise for its diplomacy
Family gets 40 minutes on intercom behind glass wall
New Delhi:
Kulbhushan Jadhav, the Indian sentenced to death in Pakistan, met his wife and mother
for around 40 minutes across a glass screen, more than a year after he was arrested by the Pakistani army and accused of spying.
Pakistan's foreign office
tweeted photos of the meeting at the Ministry of Foreign Affairs and commented: "We honour our commitments".
Going by the tweeted photos,
Kulbhushan Jadhav
could speak to his family only through intercom, with five officials present, and no physical contact allowed.
Pakistan's foreign office portrayed the brief meeting - coming after months of waiting on the family's visa application - as a grand gesture on the birthday of Muhammad Ali Jinnah. In a few weeks, the top UN court, the International Court of Justice, is to hear India's appeal against Mr Jadhav's death sentence on grounds that he never got an opportunity to defend himself. India has also accused Pakistan of denying Mr Jadhav consular access in violation of the rules under the Vienna Convention.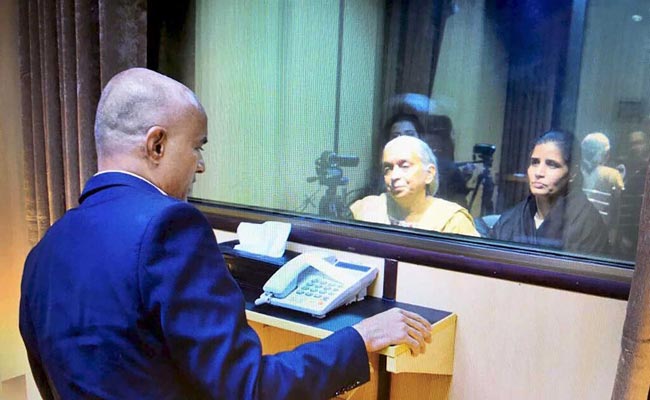 India on Monday rejected the Pakistani foreign minister's claim that since the Indian Deputy High Commissioner accompanied the family, it constituted "consular access". Mr Jadhav's mother Avanti Jadhav and wife Chetankul Jadhav were accompanied by Indian Deputy High Commissioner JP Singh more for moral support, said Indian officials.
Pakistani Foreign Minister Khawaja Muhammad Asif had earlier said allowing an Indian diplomat with the family meant consular access to the 47-year-old. Pakistan has rejected India's request for consular access to Mr Jadhav 25 times over the past 21 months.
Kulbhushan Jadhav's family landed in Islamabad via Dubai around noon and as they drove to meet him, traffic was blocked on the road. Pakistan Rangers, anti-terrorism squads and sharp shooters were posted on roof tops.
India had sought a "sovereign guarantee" from Pakistan to ensure the safety of Mr Jadhav's family.
A former officer of the Navy, Mr Jadhav was sentenced to death by a military court in Pakistan in April. India says he was kidnapped from Iran, where he runs a business.
India accuses Pakistan of sentencing the former naval officer to death through a "kangaroo court" and denying him his rights. The world court had halted his execution in May this year on India's appeal.