Highlights
Pakistan foreign office tweeted photos as meeting was in progress
Pakistan denied India consular access to Kulbhushan Jadhav 25 times
Mr Jadhav, a former Indian Navy officer, was arrested in March 2016
New Delhi:
A brief meeting on Monday between Kulbhushan Jadhav, sentenced to death in Pakistan, and his family, was revealed as
choreographed propaganda
by Islamabad which tweeted photos of the family reunion, played a video of Mr Jadhav "thanking" Pakistani officials and repeated old allegations that India has strongly rubbished.
Mr Jadhav, 47, met his wife Chetankul and mother Avanti Jadhav for around 45 minutes across a glass screen. Pakistan's foreign office tweeted photos even as the meeting was in progress and later said the family had been given "10 minutes" more than promised.
The tweeted photos show Mr Jadhav sitting across his family, apparently communicating through intercom, with officials present, and no physical contact allowed. Pakistan also put out a medical report later to support its claim that Mr Jadhav was not tortured.
In a video that was played multiple times at a press conference after the meeting, Mr Jadhav apparently says: "I requested a meeting with my wife... and I have been informed that my mother and wife are coming over to meet me and I am really thankful to the government of Pakistan for this grand gesture."
This is the third video of Mr Jadhav released by Pakistan after what it claims was a confession by the former Indian Navy officer.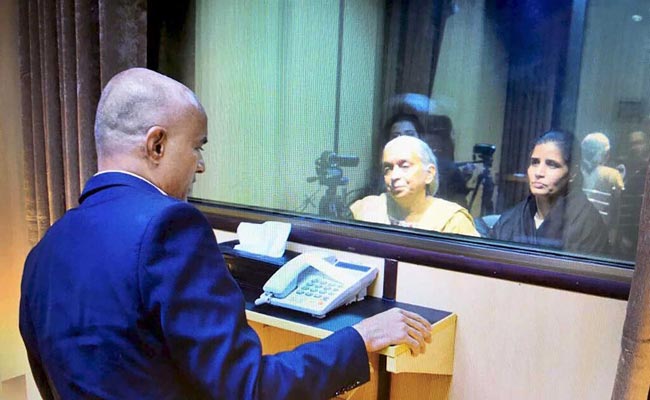 "Grand gesture" was a term used repeatedly by the Pakistanis as the meeting took place on a day marked as the birthday of Muhammad Ali Jinnah. It said it was a "humanitarian gesture" and denied that this was possibly Mr Jadhav's last meeting with his family.
Pakistan has denied India consular access to Mr Jadhav 25 times.
The country stressed that it had
not allowed consular access
to Mr Jadhav even on Monday -- clarifying the statement of its own foreign minister. Indian Deputy High Commissioner JP Singh, who accompanied the family, could only see, not hear the meeting, said a Pakistani spokesperson. The Indian diplomat's presence should be interpreted as "consular access", minister Khawaja Muhammad Asif had said this morning.
Pakistan's public relations (PR) pitch comes weeks before the top UN court, the International Court of Justice, is to hear India's appeal against Mr Jadhav's death sentence on grounds that he never got an opportunity to defend himself. India has also accused Pakistan of denying Mr Jadhav consular access in violation of the rules under the Vienna Convention.
Mr Jadhav, a former officer in the Indian Navy, was arrested in March 2016 and accused of spying and anti-Pakistan activities. He was sentenced to death after a three-month trial by a military court. The World Court ordered Pakistan in May to halt Mr Jadhav's execution.